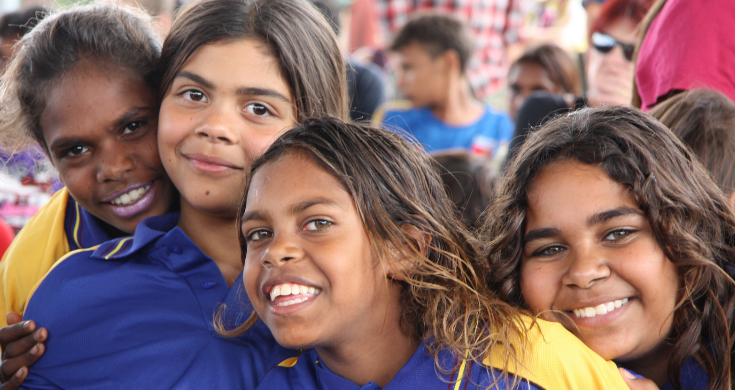 Countless conversations with community leaders and Aboriginal and Islander Education Officers (AIEO) make clear the fact that multigenerational role-modelling is highly valued by the Girls from Oz communities, particularly by women.
Studies also indicate that women have a particular tendency to lead improvements in the health and wellbeing of their families and communities, and act as catalysts for social change.
Accordingly, investments in programs like g-oz which are designed to help improve the health, education and wellbeing of women and girls are often described as having a significant 'multiplier effect', based on the cross-generational benefits that those investments support. Girls and women, who are so often the keepers of culture in family and community settings, are empowered as a result of participating in capacity-building programs, and their propensity to engage as active members of their community is nurtured.
Girls who participate in g-oz programs have access to new ways of thinking, new experiences and new opportunities. We're so pleased to be able to present positive outcomes from our programs and we are excited to see these grow from strength to strength.
One of our proud supporters, Australians Investing in Women, also know the value of investing in girls and women, and encourage all Australians, "particularly philanthropic, corporate, and community leaders – to apply a gender lens to their giving and increase investment in women and girls, to help create a fairer and more inclusive society."
AIIW do not provide grants, but spread awareness, not only of the benefits in addressing the disadvantage still experienced by women and girls, but of their central role in effecting constructive social change and development.
AIIW are currently supporting one of our projects, 'Growing next Generation Girls from Oz', whereby after a highly successful decade of delivering programs to local girls and young women in Halls Creek, we are seeking to invest in girls' futures by strengthening and deepening our program from within the Halls Creek community.
You can read more about the initiative and its expected outcomes here