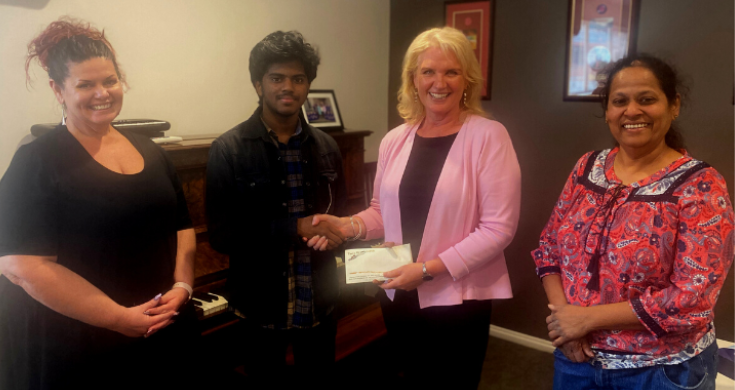 127 members of our big sister organisation, the Australian Girls Choir, recently performed at the Taste of India charity concert, Paalam. The event was organised by longstanding and generous g-oz supporter Sivaganga Sahathevan OAM (pictured above on right).  Sivaganga is the mother of current AGC chorister Karthiga  and her sister Kasthuri, (AGC Alumni)  It was wonderful to have the AGC girls involved in this event after a two year hiatus.
An extra special guest at the event was Lydian Nadhaswaram, who flew from India to perform at the event. Lydian generously donated his CD sales from the night to Girls from Oz and visited the ASPA office to present Nicole Muir, g-oz Chair, with a cheque for $1,500. The Sahathevan family also raised in excess of $15,000 from the evening.
The relationship between the Sahathevan family and the AGC is a long and very happy one. Kasthuri was a member of the AGC from 2010 – 2019, joining at the age of 9. Following in her footsteps, her younger sister Karthiga joined the choir in 2012 at age 7.
Kasthuri graduated and is now Venue Manager at Victorian AGC venues and concerts, while Karthiga is in her third year in the Performing Choir, is this year's Girls from Oz Community Leader and in November will once again host g-oz girls on their Travel Program.
We sincerely thank the Sahathevan family once again for your generous fundraising of more than $65,000 to date.