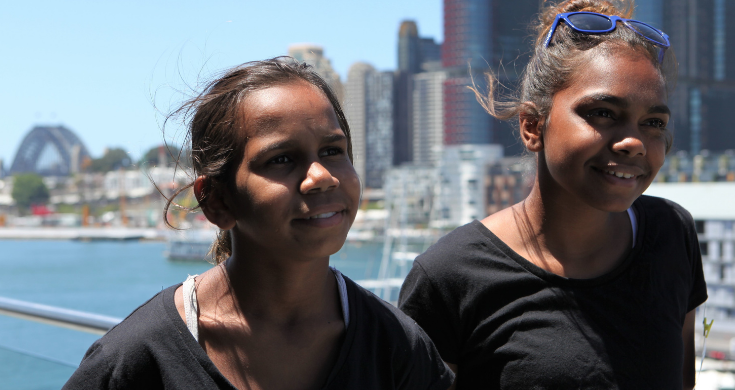 October 12, 2021 is Girls from Oz's 14th birthday. The g-oz story is one of opportunity, education and engagement. It weaves together the stories of girls and women from across Australia to create a tapestry of connections that will last lifetimes.
In 2007, after years of dreaming, Girls from Oz was founded.
Between 2007 and 2008, as the shape of g-oz was forming, we delivered a small number of one-off programs to students in Chiang Mai, Thailand, regional Queensland and the Northern Territory.
2010 marked our shift to ongoing, rather than one-off programs. After a successful pilot in Halls Creek in 2009, at the invitation of former Board member Sciona Browne, we began our first year of program delivery at Halls Creek District High School and we have been working with the students and community at large ever since.
Our Patron, then Governor-General Quentin Bryce also visited Halls Creek at this time; the girls had never seen anyone wearing stockings before!
After spending three years consolidating our program model in Halls Creek, we were ready to expand our reach. In 2012, we piloted our second program location in Carnarvon, partnering with Carnarvon Community College.
Ms Bryce is a Queensland native and was keen for g-oz to establish a site in her home state. In 2015, she connected us with the Puuya Foundation who work with and support the Lockhart River community.
We first visited Kowanyama via strengthened networks and connections in QLD through our strong collaboration with the Lockhart River community. Some in the community were keen to explore how the value of the program could enhance other remote communities, such as Kowanyama. Thus, the decision was made to pilot the program in March 2021.
Since 2010 we have delivered 101 Community Programs across four communities and supported 140 girls across 11 week-long Travel Programs to five Australian capital cities.
We are so proud of what we have achieved so far, and we look forward to continuing to build empowered, resilient and confident women.
Happy Birthday Girls from Oz!