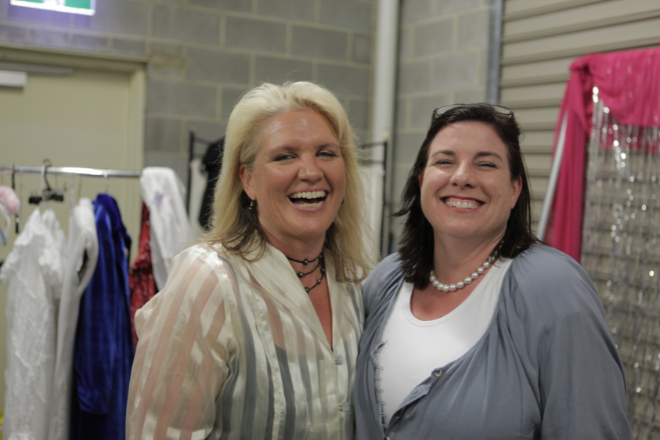 We're thrilled to announce the Rowley Foundation as our first Benefactor.
Lisa Rowley, Director of the Rowley Foundation, first came across g-oz when she heard about a Plus 1 Impact Grant g-oz received through Creative Partnerships Australia in 2013.
(Lisa is pictured above with g-oz Chair Nicole Muir when they first met in 2013)
Lisa's daughter Isabel now 23, was 13 at the time and she did some research so she could present her intentions to support girls in Halls Creek. Girls from Oz resonated with her and her interests; Isabel was a keen performer at the time, so g-oz was an easy choice. The intrinsic benefits of song and dance were very easy for Isabel to understand – she just got it. Isabel has been donating her family Foundation annual amount ever since, with approval of the Board of Directors, comprising of her mother Lisa and Aunt Jo.
Reflecting on what things were like ten years ago, Lisa says "When the organisation was brought to me it ticked so many boxes; the philanthropic arm of ASPA was grass roots, it was doing things differently, it supported young women and girls in Western Australia. We had and still do, a philosophy to support young girls and women within WA."
"Now we see increased Giving Circle opportunities, the way in which funds are raised has expanded, through maturity and working through the philanthropic world, g-oz understands its donors. The growth in the regions is also wonderful."
Over the past ten years Lisa has had numerous opportunities to talk with the girls and see them in concert as well as opportunities to meet with g-oz Patron Dame Quentin Bryce AD CVO.
Why g-oz?
"We know of a number of organisations that have gone to the northern parts of Western Australia and although they have great intentions and good will, for a variety of reasons they haven't been able to continue their support. To work with an organisation that has consistency that constantly meets the expectations of communities – that keeps showing up for girls and delivering their programs is very important to us – constancy effects change."
"To provide opportunities for remote and regional girls in WA – to sing and dance and grow in personal confidence is of great value to themselves and to their communities. Through travel and interaction with others outside of their communities, gives the girls a wider lens on the world.
Personally over the last ten years, relationships have developed and turned into friendships – I feel honoured to call Nicole Muir a friend!"
The Rowley Foundation has donated more than $125,000 to Girls from Oz since 2013.