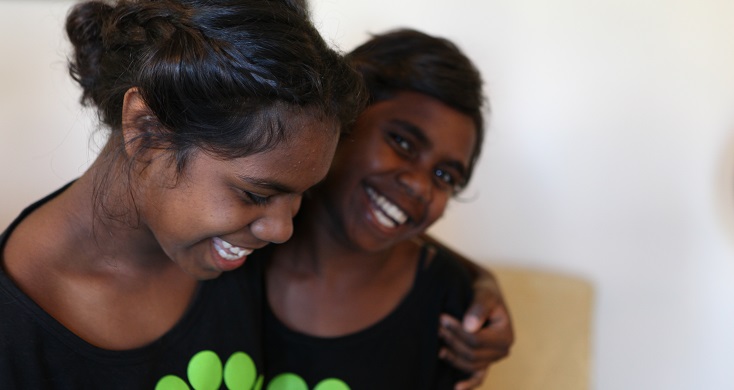 Pictured: Velda Love and Clerissa Rokeby-Thompson giggling at Government House
Last week I went to Melbourne for the Girls from Oz trip, it was incredible. The thing I liked best was singing on stage in front of lots of people. I also loved the opportunity to stay with a host family; they were friendly, kind and they looked after Clerissa and myself very well.
On the trip we got to explore Melbourne, going to Government House to perform 'I Am Australian' in front of people who were 100 years old, and I got to chat with Her Excellency Quentin Bryce. We also went to the Wilin Centre at the Victorian College of the Arts and had a singing workshop with Shauntai, who is an indigenous opera singer, her voice was amazing and it almost made me cry. We even saw the musical 'School of Rock' at Her Majesty's Theatre. The kids' acting and singing was amazing. We ate delicious food from cafes and restaurants and I loved the Grill'd burgers best.
One day we went to Bounce Inc and jumped around on the trampolines and I practised some flips onto the big soft pillow. We also went to the heated outdoor pool; it was so nice to have a warm sunny day to swim with my new friends from Halls Creek and Carnarvon.
The biggest highlight was singing at Hamer Hall with the Australian Girls' Choir. We sang a song from the movie The Greatest Showman, and it sounded so wonderful with all the beautiful voices singing together.
Thanks for giving me the opportunity to go on this amazing trip.
By Velda Love, g-oz 2018 Melbourne Travel Program participant – Lockhart River