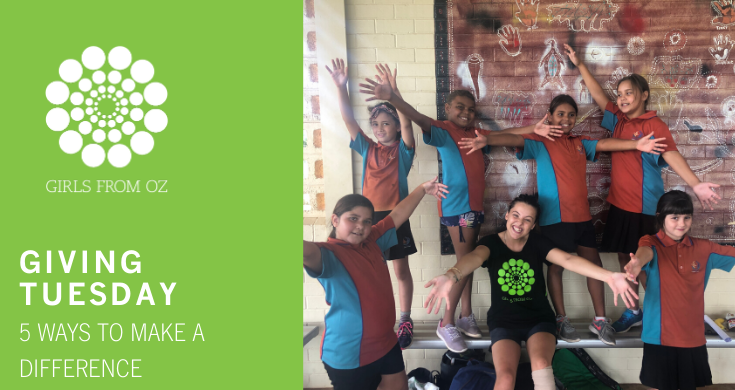 Giving Tuesday is a campaign recognising the organisations like Girls from Oz that give back to the Australian community.
Girls from Oz (g-oz) gives girls living in remote Australia access to the performing arts. 12 years ago Directors of the Australian School of Performing Arts began exploring the opportunity to give girls living in remote Australia access to the performing arts. g-oz is now working in three communities, using the power of the performing arts to keep girls in school, and foster the confidence for girls to reach their future career goals.
Until December 20, we're harnessing the theme of Giving Tuesday, using the power of our community so we can continue to give performing arts programs to girls living in Halls Creek, Carnarvon and Lockhart River.
How can you help?
We're sharing 5 innovative ways you can give without breaking the bank this Christmas Season. We've done the hard work for you, all you need to do is pick the method that works best for you!
Giving Tuesday – Tuesday December 3 2019 is Giving Tuesday. It's a day to give to back to organisations that support the wider Australian community. By giving time, money or goods, your donation will ensure our program can continue to run. We are so grateful for the generosity of our key supporters, whose donations ensure we can deliver our program to girls living in remote Australia.
Shopnate – Did you know you can support Girls from Oz while shopping online? If you're planning on doing your Christmas shopping online, you can also donate to Girls from Oz at no extra cost to you! Follow this link to find out more!
Share the love – Growing awareness can help drive donations to Girls from Oz. Simply sharing our mini-documentary to your social media can invite like-minded people to learn about and support our work.
Set up a monthly donation – For just a tiny $10 a month you can made a big difference to girls living in Halls Creek, Carnarvon and Lockhart River. The success of our programs rely on the support and generosity of our community, who see the various opportunities the performing arts provides for our g-oz girls.
Host a fundraising event – Catch up with friends while raising funds for Girls from Oz! With the end of the year creeping up, now is the perfect time to catch up with family, friends and work colleagues while supporting a worthy cause. Please get in contact with us at info@girlsfromoz.org.au if you're hosting a fundraiser for g-oz!
With social media and the advancement of technology, it's now easier than ever to give back to organisations like Girls from Oz. For more information on how to support g-oz, follow this link!
Remember, donations over $2 are tax deductible!