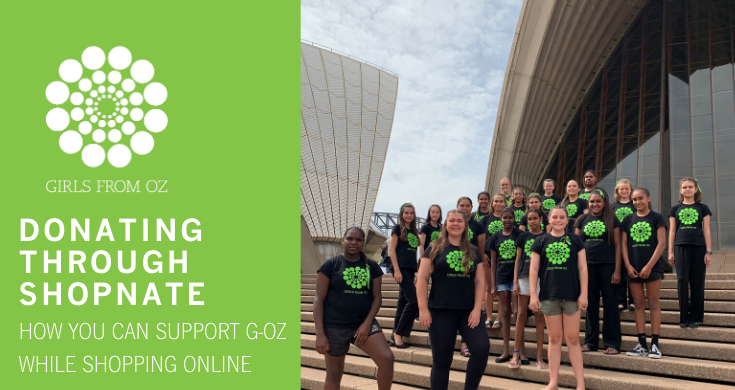 It's Black Friday today and Giving Tuesday next week so we thought we'd share ideas about how you can give to g-oz while tucking into some Black Friday sales!
Tuesday December 3 is Giving Tuesday, and is the perfect opportunity to give back to organisations like Girls from Oz. Our purpose is to use the performing arts as a hook of engagement, to keep girls in school and inspiring girls to feel no shame about having ambitious careers.
There are three types of giving that not-for-profits like Girls from Oz ask for: time, money and goods. There are so many ways to give that it can be overwhelming to know what's best! One fun way to give back is by doing your online shopping via Shopnate!
With Christmas around the corner and this weekend's Black Friday sales, donating to Girls from Oz is as simple as shopping online. Simply follow this link to purchase your items through Shopnate, and a percentage of your purchase will automatically be donated to Girls from Oz, at no extra cost to you! Choose Girls from Oz as your cause, shop thousands of brands, and give the gift of performing arts education to girls living in remote Australia while Christmas shopping!
How to use Shopnate
Make an account using your email address, then tick to agree to the T&Cs and select the red 'Join with your email' button
After registering, you will be taken to the 'thanks for signing up' page. To personalize your settings, including your choice of charity click on the 'My Account' tab. Shopnate automatically allocates you to their 'charity of the month'. To change this click 'Change Charity'.
You will be taken to this screen, where the numerous charities are Unfortunately, there is no search bar, so we recommend you find Girls from Oz by using the 'CTRL + F' function and typing 'girls' (as shown below).
You should then clearly be able to see, and select, Girls from Oz by clicking on the g-oz logo
Once selected, you will then be taken back to the 'Account screen where it will confirm you are supporting Girls from Oz. From there, it's time to start shopping by clicking on the 'Shop' tab
You will be taken to a list of retailers who support charities through shopnate.
Once you have decided where to shop, click the red 'Shop Now' button
NB: You must go to the Shopnate site each time you want your purchase to contribute funds to Girls from Oz

You will be taken to the online store you have selected, as if you were shopping as normal. You may browse, add items to your shopping cart as usual, before checking out.
Once you have completed payment, your selected store will notify Shopnate of your transactions. This may take up to 5 days.
Grab a bargain and support performing arts education for girls living in remote Australia. Happy Shopping!