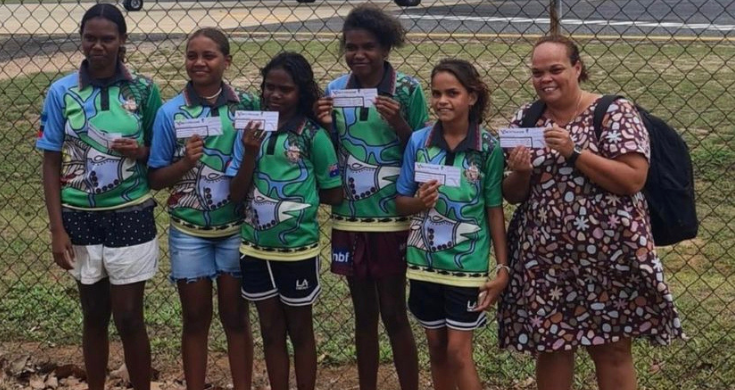 34 young girls from Kowanyama and Lockhart River in Far North Queensland and Halls Creek, Carnarvon and Bidyadanga in Western Australia have been chosen to travel to Melbourne for a week of learning and connection, as part of the Girls from Oz annual Travel Program.
This year's Travel Program is g-oz's 14th and will see a total of 34 girls from communities in Far North Queensland and Western Australia travel (some for over 24 hours) to Melbourne with other participants for a week of shared cultural exchange. The girls will sing, dance and bond with peer-aged members of the Australian Girls Choir. For some of the girls travelling, it will be the first time leaving their community.
The girls aged from 9 – 16 will be exposed to a range of employment and educational activities during their week in Melbourne: experiences that will support them when considering schooling away, which is sometimes necessary for them to complete further study and pursue future employment opportunities. They'll perform at the National Gallery of Victoria at an event hosted by Girls from Oz Patron Dame Quentin Bryce AD CVO, and sing at Hamer Hall with over 600 choristers on stage at the Australian Girls Choir Annual Concerts.
The Travel Program, which this year runs from November 7-14 in Melbourne, is the highlight and a key component of the Girls from Oz program. This annual program offers the opportunity for the most engaged participants in each program location to be selected to travel to a major metropolitan city.
The Travel Program celebrates the cultural identity of the girls, while providing vital opportunities for them to learn how to thrive when they are away from home.
Of the Program, Girls from Oz Chair, Nicole Muir AM says "We aim to spark imagination in these young women about what they might be when they grow up.  In one week they are exposed to an incredible range of people and experiences that we hope will inspire them to remain engaged at school and strive to be successful. These opportunities aren't available in their home towns and we know the lasting benefits of eye-opening experiences in this impressionable age group."
Since 2010 over 180 girls have travelled on thirteen Travel Programs to five capital cities for a week of shared cultural exchange.  105 Instructors have assisted in running 117 week-long Community Programs, engaging more than 4,000 girls across five communities.
The 2022 Travel Program is proudly supported by Ansvar.