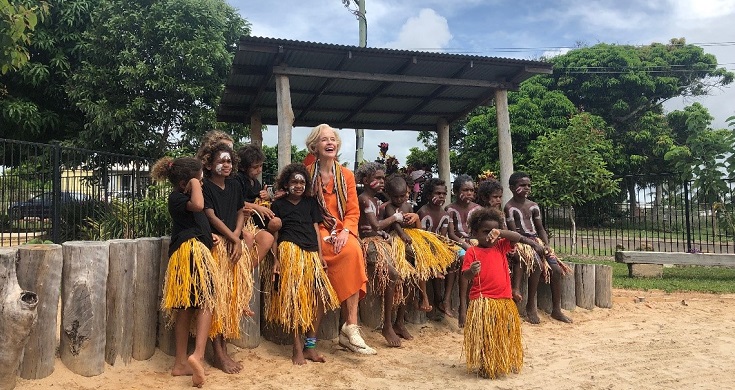 Our Patron, Dame Quentin Bryce AD CVO, holds a soft spot for the community of Lockhart River.
While celebrating the great work of our friends at the Puuya Foundation, Ms Bryce shared her wisdom and love of the town with Australian Women's Weekly (AWW) readers. Her message was simple but powerful: young children in remote Australia should be given the same opportunities that people in cities take for granted. We're celebrating our Patron's long-standing commitment to the people of Lockhart River, sharing five lessons we have learnt from working with Ms Bryce over the years in Lockhart River and other beautiful, remote Australian communities.
Young girls are key to change
Much like g-oz, Ms Bryce has a strong belief in women and young girls. Importantly, women are "the future of our children and grandchildren, their health, education, [and] employment opportunities". When you empower women, you empower a community.
Opportunities should not be defined by your location
In collaboration with the Puuya Foundation, Ms Bryce has created a space within the community that encourages local people to lead and develop their professional potential. She is a strong advocate for people in remote communities, particularly women, being given the opportunity to become strong and effective leaders. The same opportunities should be available for all people regardless of location.
Education is key
Ms Bryce highlights education as the key to unlocking a plethora of opportunities, and we couldn't agree more. In the piece by AWW, she rightfully asserts that "children are the priority" in Lockhart River. Giving children the opportunity to attend and actively participate in school is the key driver of success.
It's all about relationships
Change is built on trust. Ms Bryce's relationship with g-oz and the Puuya Foundation is grounded in a strong sense of trust and understanding. In fact, it was Ms Bryce who initially introduced g-oz to the Puuya Foundation, who we have now been working with for four years. In AWW, Puuya's CEO, Denise Hagan, reflects on Ms Bryce's ongoing commitment to raising the voices of Aboriginal and Torres Strait Islander people throughout the years; "not just speaking about it", but acting on it too.
Culture is to be shared and treasured
The core of the Puuya Foundation is culture. In fact, 'Puuya' itself means 'strong spirit', 'strong heart'. Ms Bryce confidently states that "[culture] is the most important thing; then other things follow". With a strong focus on community and connection,  Ms Bryce nurtures the Lockhart River community, and encourages displaying pride in culture through connections with both Puuya and g-oz. Ms Bryce's consistent visits to Lockhart River enable her to learn and share the Cape York culture with urban Australia, and continuously amplify the voices of young Aboriginal and Torres Strait Islander people.
Each of these lessons make up a big part of what we do at g-oz, and our ongoing involvement with the Puuya Foundation and Dame Quentin Bryce enables us to collaboratively incorporate local objectives into the ongoing development of our programs.