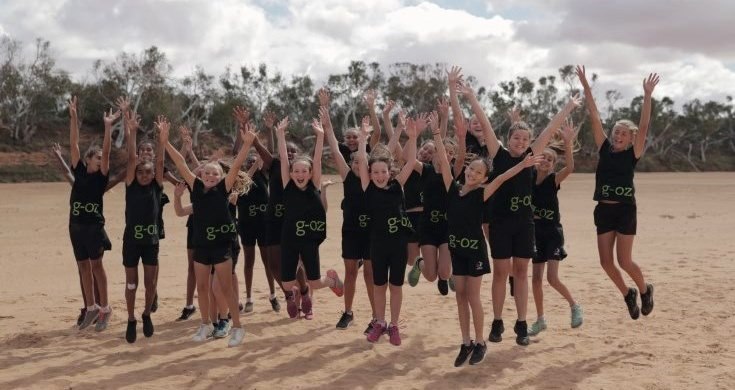 Happy birthday Girls from Oz! When Australian School of Performing Arts (ASPA) Directors Judith Curphey, Jane Curphey and Nicole Muir talked about their hopes, dreams and aspirations in 2006 they were clear about their shared desire to make high quality performing arts activities available to more children and young people.
In particular they wanted to reach girls who lacked access to these opportunities because of their location or financial status. Three senior staff members at the time, Libby Franke, Vicki King and Kylie Lee-Archer were excited by the idea of working from the Australian Girls Choir (AGC) base to provide educational and social development opportunities to more girls. In 2007 Girls from Oz was born.
In the early days, the enthusiasm was strong but the shape of our offering was still forming. Our first week-long program was in Chiang Mai in Thailand during which Kylie, our current Program Director, worked with local school children to develop their English language skills by using the performing arts. In the same year we undertook a tour of regional Queensland with senior members of the Australian Girls Choir, reaching hundreds of children in performances and workshops, which culminated in a performance for then Governor of Queensland, the Honourable Quentin Bryce.
After exploring a variety of formats, we settled on our current model which focuses on providing performing arts activities for girls and young women in remote and regional Australia. Consistent and reliable contact with g-oz participants is central to our success and is a point of difference to many other similar programs. In 2009, Kylie and Nicole travelled to Halls Creek in remote Western Australia to set up a regular program at the invitation of our current Board member, Sciona Browne. We have been providing life enhancing activities to children and young people in Halls Creek ever since; we recently sent a team of talented g-oz Instructors on our 33rd visit to the town.
Fast forward to 2017 and we:
Have engaged over 400 participants across three program locations this year – Carnarvon and Halls Creek in Western Australia and Lockhart River in Far North Queensland,
Have witnessed many of our participants successfully and bravely take on opportunities presented to them during Travel Programs. Since 2010, 81 g-oz participants have travelled on 11 trips, visiting Adelaide, Brisbane, Melbourne, Perth or Sydney. Of these 81 girls, 89% are employed or still studying – at their local school, at schools all over the country or in higher education,
Have grown our supporter base from 25 Founding Supporters to many hundreds of people ranging in age from 11 to 88. We've established wonderful ongoing relationships with donors whose commitment and financial support, particularly through our annual Giving Circles campaign, have enabled our programs to flourish,
Have had dozens of ASPA team members from across Australia deliver g-oz programs and more than 50 AGC families have welcomed g-oz participants into their homes, and
Are privileged to have former Governor General, Dame Quentin Bryce AD CVO, as our dedicated and enthusiastic Patron.
When Judith started the Australian Girls Choir in 1984, she did not anticipate that it would grow into a national organisation with over 5,000 choristers in five states. We plan to keep growing Girls from Oz and who knows where we'll be by the time we're celebrating our 20th anniversary!
What a remarkable 10 years it has been!