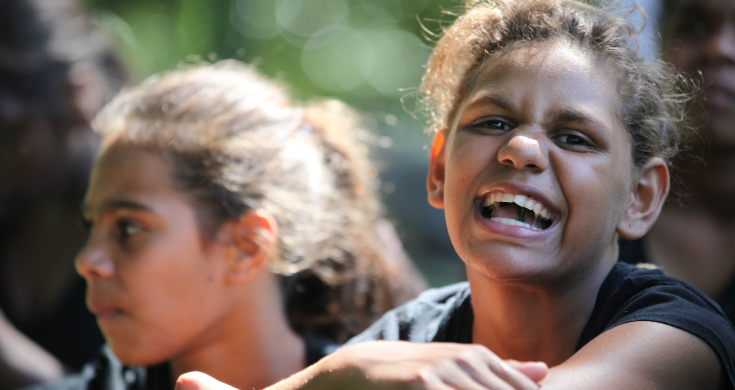 After a highly successful decade of delivering programs to local girls and young women in Halls Creek, we're looking to the next generation of girls and young women in the community who can be inspired and educated through g-oz, leading to educational, vocational and employment outcomes.
We plan to soon launch a formal and bespoke training and mentoring program for young women in Halls Creek with school-aged mentors and adult trainees being recruited from Halls Creek District High School and within the local community.
With local young women and girls trained in the facilitation of niche and specialist skills, the g-oz program can provide continuity not currently available. The adult trainees grow in confidence and start to see themselves as leaders within their own community, which in turn leads to pathways of employment, whilst the mentees benefit from having relatable role models who demonstrate pathways to success.
Women in the Halls Creek community understand 'shame' and they want to help girls to overcome their fears by leading by example. They also comment on the importance of sustained intercommunal relationships, particularly because relationships with teachers are short-lived.
Carolyn McAdam, a Jaru and Gidja woman and g-oz Board member who lives in Halls Creek says,
"We need our young girls to be our Leaders, to share their stories, to have a voice, to challenge the things that are unfair and unequal. There weren't many things available to the girls recreationally [in Halls Creek]…. I see these girls, our young girls and now our young women who have completed [g-oz] have been encouraged, they've seen girls that have gone before them so it's becoming normal that they join in and participate and sing and perform."
The next phase for Halls Creek works to positively change a pervasive culture of 'shame' that in the past has stopped girls and young women (particularly Aboriginal girls) from expressing themselves, feeling confident or worthy or from being equipped to set and achieve goals.
While the outcomes have been powerful, we believe it will be further magnified when girls and young women in Halls Creek have mentors and role models from their own community, with similar backgrounds and life experiences.
The objectives are that the Halls Creek female teenagers and young women who demonstrate an interest and engagement can receive high quality training to become facilitators of the g-oz program to the next generation. The mentoring program we will be initiating is a way to formalise the informal support and encouragement that already exists in the community.
Please, join us on this exciting journey. We look forward to keeping you updated.