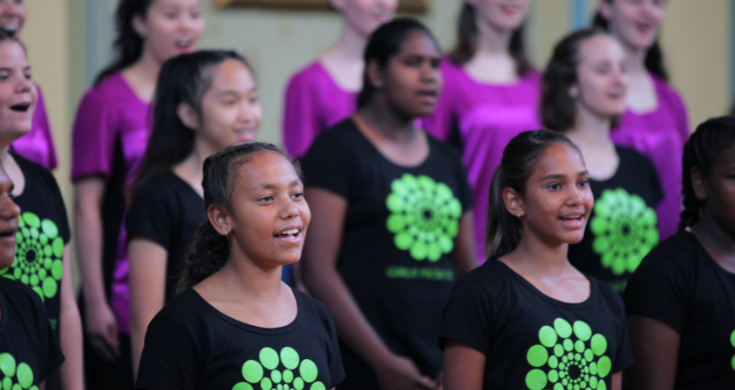 We are busy and so excited to be organising our fourteenth Travel Program and we can't wait, after two years of not being able, to bring girls to a capital city.
Our Travel Program is a highlight of each g-oz year and plans are coming together for 30 girls from all five communities (Halls Creek, Carnarvon and Bidyadanga in Western Australia and Lockhart River and Kowanyama in Far North Queensland) to be in Melbourne from November 7 – 14 for a week of shared cultural exchange with peer-aged members of the Australian Girls Choir.
For some of the girls it will be the first time leaving their community.
We have been busy locking in host families and carefully curating a list of activities for the girls during the course of the week, including singing, dancing and connection.
Participants will be exposed to a range of educational activities during their week in Melbourne: experiences that will support them when considering schooling away, which is sometimes necessary for them to complete further study and pursue future employment opportunities. The Travel Program celebrates the cultural identity of the girls, while providing vital opportunities for them to learn how to thrive when they are away from home.
The girls will also undertake a variety of workshops and performances and will perform at the Melbourne Annual Concerts alongside the AGC on Sunday November 13. And of course, they will make new friends when they are hosted by families.
The AGC families who host pairs of g-oz girls are generous and completely focussed on the girls feeling comfortable and like family members for the time they are together; we see the week as a wonderful two way learning opportunity.
Past AGC NSW host parent (2019), David Burnes, spoke about the positive impact the Travel Program had on him and his family; "The [hosting] experience made us appreciate how lucky we are and how music and dance breaks down barriers. It was inspiring to see the girls perform on so many stages in front of more people than they have in their own town."
Since 2010 over 180 girls have travelled to five capital cities for a week of shared cultural exchange.
Image – 2019 Travel Program to Melbourne
The 2022 Travel Program is proudly supported by Ansvar.