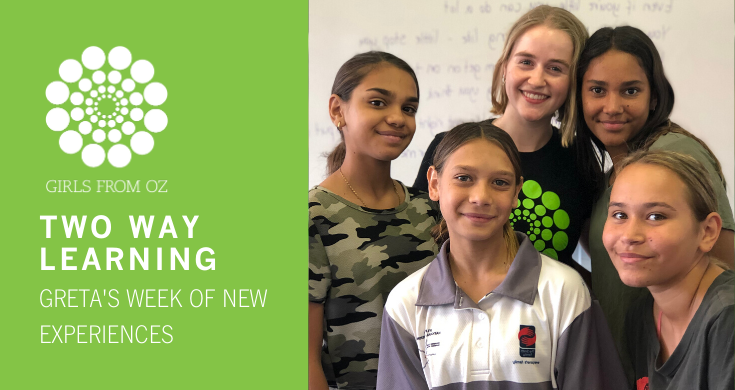 After two flights to Broome and Kununurra, followed by a four-hour driving stint, you really start to put into perspective just how vast Australia is.
From a high-up lookout point, you can see how Halls Creek sits on the outskirts of the desert. I was flawed by the distance, how far away from home I felt, and by the red landscape. It's taken me a week to try and put together a succinct thread of thoughts and feelings about Halls Creek. It's hard to find the right words to explain an experience that changes your perspective of the world. In a week, I met a small community that somehow made the world feel so much larger. I saw parts of my country I didn't know could exist. I felt my understanding of Australian culture broaden beyond the city I grew up in.
A week of new beginnings
My expectations of Girls from Oz could never really prepare me for the beautiful reality of this program. Through teaching songs and forming bonds with the kids, I got to see first-hand how g-oz gives Indigenous girls the opportunity to learn and grow. Although, in saying that, I couldn't have imagined all of the things that these girls would be teaching me too.
Coming home, I have found a new sense of what it means to be Australian and have a completely new understanding of Country. I am overrun with emotion for the community of Halls Creek. I feel as though I have learnt and grown so much as a young woman through Girls from Oz, and I can say with confidence that the same is happening for the young Indigenous women who participate in this program.
So I say thank you, Girls from Oz. For giving us g-oz instructors and participants the opportunity to learn and grow from each other. For encouraging women to empower each other tochange our country. Halls Creek will always hold a special place in my heart.
Girls from Oz: These are our Daughters. Future Mothers. Future Leaders.
To visualise this two-way learning experience Greta has described, check out our new documentary filmed in Halls Creek earlier this year. In addition to the stunning landscape, the footage highlights the impact of the work we do. It also records a very significant part of our g-oz history: for the first time this year, 10 senior members of the Australian Girls Choir (AGC) traveled to Halls Creek on the Shining in the Kimberley tour. During the week, we captured some truly special moments that display the unique nature of the g-oz in-community programs.
Donate Now!
The g-oz program is only possible with donations form our incredible community of supporters. If you're feeling generous and would like to donate, follow this link. All donations over $2 are tax deductible.