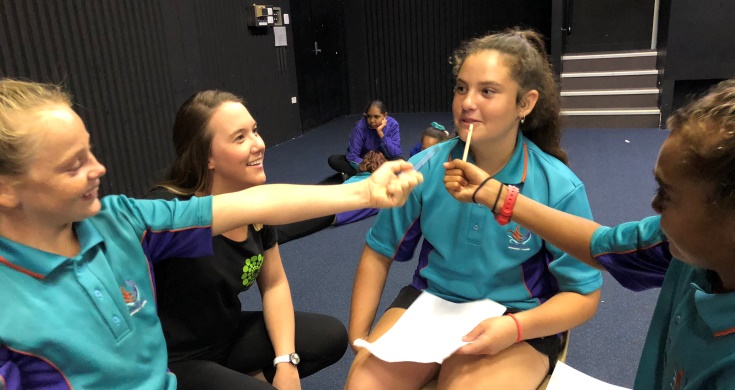 The first Carnarvon trip for 2018 was also my first with Girls from Oz and I absolutely loved it! Having followed the g-oz journey over the years, I couldn't wait to arrive in the town and meet the girls.
This was g-oz veteran Jane's eighth visit to Carnarvon which meant girls were running across the school yard to greet her, and because Alex and I were wearing our familiar g-oz t-shirts, we also received hugs from the girls. It was immediately clear that these visits aren't just about singing and dancing for the girls, they're about the relationships each Instructor before me has created and fostered.
Temperatures soared above 40 degrees every day, but that didn't detract from the girls' energy. It didn't take long to get them leading activities and singing on their own. They particularly enjoyed the 'Abeyo' song, giggling when they heard their voice solo in the room. The Year 3s and 4s were quick to reminisce about songs they'd learnt with Jane last year and were so encouraging of their classmates. Alex's dances to 'What Time Is It' and 'Thunder' for the Year 5s and 6s got everyone on their feet.
Our sessions the senior campus were equally fantastic. The girls were quick to introduce themselves, and although some were hesitant to participate in our first sessions, they were all singing and dancing by the end of the week. Channeling my day-job as a radio journalist, I got the girls to create their own radio show, and taught them skills in interviewing. Hearing them share aspirations of wanting to be a fashion designer in Paris or a childcare worker was truly heart-warming. It was exciting to see Hanna and Makenzi take up leadership roles, teaching warm ups to the junior school girls as part of the mentor program.
Outside of the classroom, we visited the Biddi Biddi Jijjas at the local PCYC where girls are taught to cook, joined in netball training and breakfast with Shooting Stars, hung out at the Youth Drop-In and three girls who toured to Melbourne at the end of last year even did an interview on local radio station Radio Mama.
I had already been so looking forward to the trip but came away with the experience exceeding all expectations. I can't wait to return!
By Emma Charlton, g-oz instructor, Carnarvon March 2018