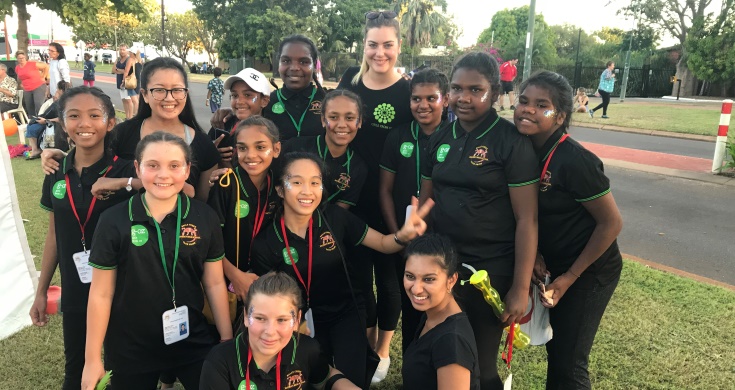 As the sun set and the dust settled on the main street of Kununurra, eleven g-oz participants prepared for their performance at the Argyle Diamonds Ord Valley Muster Horizon Power Street Party.
A few hundred people turned out to this event which acts as the closing ceremony of the week long celebration of sport, arts and culture in the East Kimberley region. The girls, aged 11 to 16, waited excitedly with anticipation (and a few nerves).
Throughout our week in Halls Creek we worked hard with these girls to prepare six items; four songs and two dances. We not only practiced the music and movement but also discussed what it feels like to be on stage and the difference between the nerves they might feel beforehand and the exhilarating joy and pride that occurs afterwards. With many of these girls not having performed in a wider public setting before, it was important to discuss and practise proper rehearsal etiquette and what to do if we 'made a mistake'. Year 6 student, Brooke's reply to this was, "Well it doesn't really matter, the people that are watching can't do what we do". I have to admit, she wasn't and isn't wrong.
As we waited side of stage John, the MC of the event, approached us as we were huddled in a group going over the final things to remember. "I remember your group from last year!" He exclaimed. He continued to tell the girls that the performance in 2017 (with a different group of g-oz participants) was his favourite of the event. This seemed to be the final bit of encouragement the girls needed. They performed beautifully with confidence, smiles and an overwhelmingly strong sound for such a small group of singers. As I was speaking with John after all was said and done, he could only gush about how amazing the girls were yet again, and that their confidence as a group has improved a great deal.
The girls were so proud of themselves and their focus, and had even noticed a few people from school in the audience that "didn't even distract [them]" from putting on a great show.
by Laura Knowling, g-oz Program Leader, Halls Creek May 2018