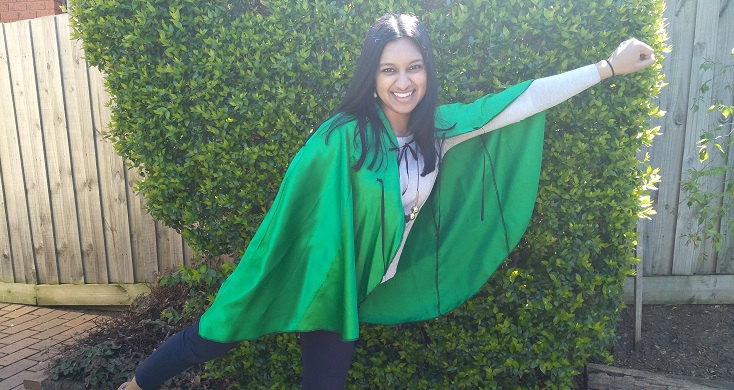 Meet Kimi, our superhero Communications Assistant – Programs! We talked to Kimi about her vision for g-oz, her role at the organisation and how strong female role models have empowered her throughout her life so far.
1. Tell us a bit about your role with g-oz and how you first came to be involved.
I first became involved with g-oz in 2013 during an Australian Girls Choir (AGC) tour to Perth. It was the first time I was able to not only share the stage with the g-oz participants, but spend time with them. They were such beautiful, bright young women who had a zest for life and were so excited by the performing arts. It inspired me to share performing arts with anyone I could. Having formed relationships with g-oz participants as an AGC chorister, I was over the moon when I was offered my g-oz role in March this year. I was even more excited when I was invited to deliver my first g-oz program two months later in Halls Creek
2. What has the most significant impact of a performing arts education been on your life?
I was an extremely shy person prior to my performing arts education. Performing arts taught me to push through my nerves and gave me the tools to express myself confidently and without doubt. I have since learned, and continue to teach others, that nerves are not something to work towards removing from your life. Instead, nerves should be harnessed and used as a driving force to make your performance infinitely better. Since then, I have taken on so many challenges and exciting opportunities because I know that my nerves will never get the better of me.
3. What do you do when you're not planning g-oz Programs?
When I'm not planning g-oz Programs I'm filling my hours with a multitude of activities! I am currently studying a Masters in Primary and Secondary Teaching. I find that working in the Programs realm of g-oz is providing valuable skills that I can utilise in my future teaching career. I am also employed with the Australian School of Performing Arts (ASPA) as an AGC tutor and venue manager. This means I get to impart all of the wonderful things that I've gained through my performing arts education to some gorgeous, effervescent 5 and 6 year olds in my Saturday morning classes. Then, of course, in any spare time I can find, I sing with three bands!
4. What's the best thing about working for g-oz?
There are so many positives about working for g-oz. Each day I walk into work with a smile, knowing I have a list full of interesting and diverse tasks to check off. Working in a small but dynamic team of powerful women means I am well supported and get to collaborate each day. The g-oz team always builds me up, provides helpful and critical feedback, and allows me to grow both in my role and as a person. Every task I complete brings g-oz one step closer to providing more performing arts to incredible, worthy young women, and nothing makes me happier! Loving where you work makes such a difference.
5. In an ideal world, where do you see g-oz in 5 years?
In 5 years, I envisage g-oz becoming stronger with more program locations in operation across Australia. I see past g-oz participants coming back to support the current g-oz participants, as well as rising to become powerful female role models to all. I see us creating more connections between g-oz and the wider community to empower young women and create accessible educational opportunities. Best of all, I would like to see g-oz become a household name; inspiring compassionate, philanthropic conversation amongst Australian families.
6. Who are the most influential female role models in your life and how have they shaped you?
There are so many individuals who are role models to me, but the most influential would have to be my older sister. She demonstrated to me that hard work and a sense of determination will only get you so far in life. Without passion, work life balance, and many sources of happiness and enjoyment, you will collapse before you reach your goal. Although she is living her dream in New York, she continues to keep me grounded, supports my endeavours and always makes me laugh. In addition to my sister, I have created a small but meaningful support system of strong female friends. These girls always build me up, especially in my moments of doubt. They provide me with advice and unconditional support which helps to power me through any difficult times. I'm beyond lucky that all of the women in my life have helped to foster a determination to beat every goal I have set myself, provoke my imagination, help me explore new ideas and fuel my passion for learning and teaching.