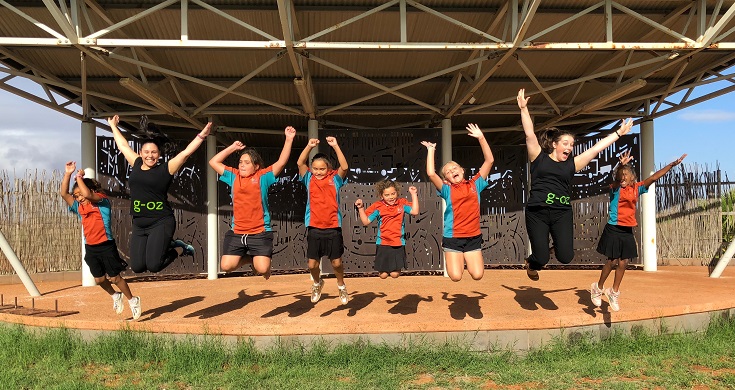 What a joyful and sunshine-filled week I had in Carnarvon! I am incredibly grateful for the wonderful opportunity of working with g-oz in such a beautiful, remote part of Australia.
Last week was my first trip with g-oz, and I feel humbled by the experience. On arrival, I was welcomed into the community of Carnarvon by many smiling faces, and within five minutes of being at Carnarvon Community College, three Year 12 students had introduced themselves to me with a hug. Having not been to Carnarvon before, the kindness of students and staff alike was a little overwhelming and I instantly felt the connection g-oz has with this community.
We were excited to work in the new Performing Arts Centre on the primary campus, a brilliant space that will continue to support arts education when all secondary students move to the campus next term. Within this space, we spent the week singing, dancing, and encouraging overall school engagement.
Team teaching with Rebecca and Jane was delightful and fulfilling; we worked towards creating a performance item to celebrate NAIDOC Week, which all girls in Years 3 – 12 learned and rehearsed together. The preview of their performance was powerful, with all voices singing the lyrics, "This is the sound of one voice, one people, one voice".
I was thrilled to be a part of such a wonderful week interacting with the girls and the wider community of Carnarvon. I wish to express my gratitude to g-oz for empowering me to develop as an educator and for including me in such an impactful program.
By Maddy Casey, g-oz Instructor, Carnarvon June 2019