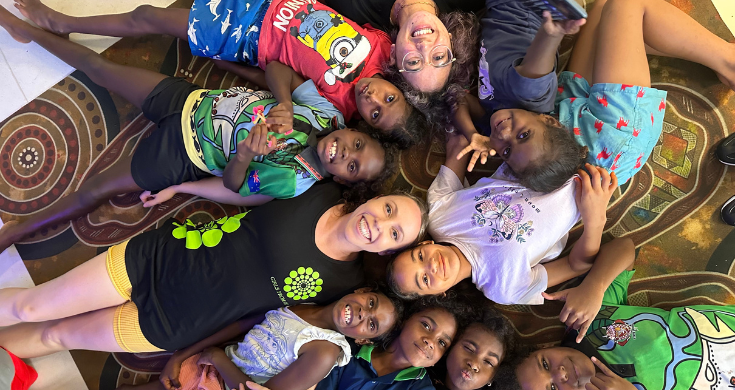 Long-time g-oz Instructor and 100% Dance Director Jess Innes has made 10 happy making trips with g-oz. Read Jess' reflections and why Lockhart River holds such a special place in her heart..
In 2014 I embarked on my very first Girls from Oz trip to Carnarvon on the northwest coast of WA and the following year I visited Halls Creek in the East Kimberley region of WA.
Both communities have a long running relationship with Girls from Oz, and I could see from my very first trips what a special place the program held within these communities.
In 2016 I had the wonderful opportunity to visit the newest community which Girls from Oz had connected with. Lockhart River is the most northerly community on the East Coast of Australia with a population of approximately 700 people. That year I took 2 trips to Lockhart River and have returned every year since to share my love of dance with the students at Lockhart River State school. It was greatly rewarding to be a part of those initial trips as we established trust and important connections within the community.
For me, the true rewards have come from being able to return again and again to watch the growth of the students within the Girls from Oz program. The community in Lockhart River is so welcoming and each student is so special and memorable. It's such a joy to see a student light up when you remember their name and remark on a memory from a previous trip. This creates accountability for both instructors and students alike and a feeling of being seen, remembered and valued.
2022 was my 10th Girls from Oz trip and was particularly meaningful as the students who were in kindergarten on my very first trip to Lockhart River were now in their final week of year 6 at school. We had lots of time to reflect on our favourite g-oz moments over the years and the kids loved looking back at old photos of when they were little. I could see a real sense of belonging from the graduating students and in all our sessions they showed such ownership and assurance.
We were kindly invited to the Year 6 graduation ceremony at the local community centre as well as their final assembly where our students performed both a song and dance routine we had been working on that week. It was incredibly heart-warming and moving to see the girls perform at their final assembly with such pride, certainty and enthusiasm.
We had also received some wonderful feedback from the teachers regarding how impactful the Travel Program had been for the students who had attended, with teachers remarking that the girls had come back with renewed focus and determination for their schooling. This was further highlighted by bumping into Eva, a past Travel Program student and g-oz superstar who warmly greeted us and told us all about how she is about to commence Year 11 and is going to enrol in the Navy after school.
I'm honoured to have been a part of Girls from Oz since 2014 and to have had the privilege of watching the kids of Lockhart River grow. Not only in the core skills of performance but in confidence, focus and teamwork. It's an incredibly special way to connect through a shared love of dance and music and I look forward to many more trips to come.
Jess' first trip to Lockhart River in 2016.  g-oz participants Quintezza and JJ are in Kindy in this picture and were two of the graduating girls in 2022.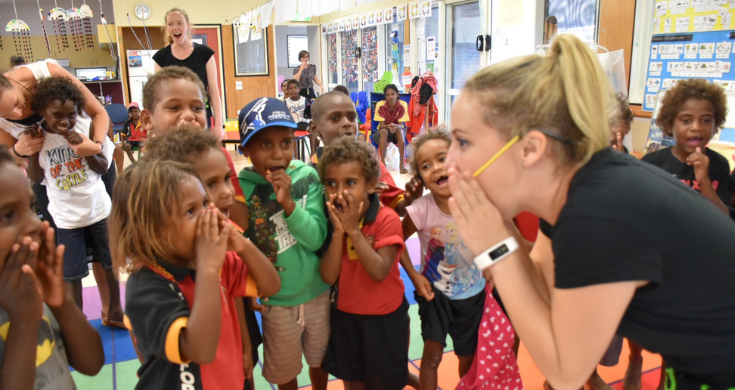 Lockhart River, November 2022. Year 4's, 5's and graduating students.