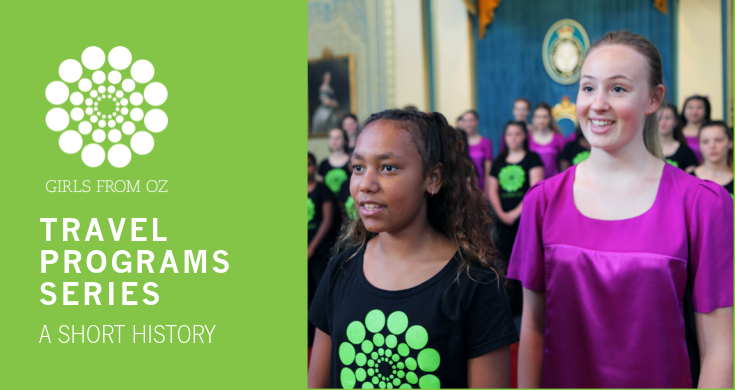 How does the g-oz Travel Program work?
From the beginning, g-oz has connected girls from remote and regional communities across Australia with girls from our big sister organisation the Australian Girls Choir.
Over the past 10 years we've seen the real and meaningful impact this has had on our participants. The g-oz Travel Program has been integral to our purpose since the inception of our Community Program in Halls Creek in 2010. One of our goals is to encourage the girls to pursue participation and excellence in their own way and own areas of interest. Our Travel Program and the girls' engagement with their Australian Girls Choir (AGC) peers, contributed to the achievement of this goal.
Two way learning
For more than 30 years, a key part of AGC  tours has been engaging with host families from different choirs and other community groups. When we designed our g-oz Travel Program we took inspiration from our big sister's experience and decided host families would also play a key role in our trips. To date, 69 AGC families have opened their homes to g-oz girls from Halls Creek, Carnarvon and Lockhart River. Of those 69, 11 families have hosted girls twice.
What we've observed over ten years running our Travel Progams is that they benefits of the cross-cultural exchange are very much 'two-way'. There are lots of different ways people describe the concept of two or both ways learning. At g-oz we like Pincher Nyurrmiyarri's articulation: "… the sharing of power and information between 'black fella' and 'white fella'." We know that the connections formed last beyond the week long travel program, and are a highlight of the trip.
A 10 year history
In 2019 we celebrated 10 years of our program in the Halls Creek community. Over those 10 years, 65 girls have participated in 10 separate Travel Programs. Some girls have participated in more than one trip and one lucky girl participated in 3 trips! In 2013 when our program in Carnarvon started we invited 8 girls to travel to Perth. Since then 44 more girls have participated in trips to Adelaide, Perth, Sydney and Melbourne. Finally, 16 girls from Lockhart River in Far North Queensland have now participated in trips to Brisbane and Melbourne.
Performance and educational opportunities
The girls experience a very full and exciting itinerary for each Travel Program. This includes workshops with Performing Arts specialists, visits to urban Aboriginal and educational organisations, opportunities for the girls to meet and greet g-oz supporters, performances at both  casual and fancy venues and, of course, sightseeing and shopping. On past trips the girls have also visited and performed for the Governors of Western Australia, South Australia and Victoria, but nothing tops the experience for two groups of girls who enjoyed a sleepover at Admiralty House when our patron Quentin Bryce AD CVO was Australia's Governor General.
As always in September and October, we are busy preparing for our next Travel Program. In November, 26 girls from Halls Creek, Carnarvon and Lockhart River will join together with members of the AGC in Sydney. Families will host the g-oz girls in their home, the girls will rehearse together, attend workshops, perform at Government House, visit the IOOF Foundation and check out the Sydney sites (including the famous Chatswood Shopping Centre!). On their final day in Sydney the girls will perform onstage at the Sydney Opera House to a combined audience numbering more than the people who live in their respective home communities. This opportunity to perform at the iconic Sydney Opera House, this is one of the most exciting moments of the week.
The travel program is made possible by our Giving Circles campaign.
Donations received through our annual giving circles campaign allows g-oz to provide the experiences and opportunities unique to the travel program. Thank to those who donated, and if you are feeling generous, please follow the links bellow to support our work in providing experiences like the Travel Program to girls living in remote communities all over the country.
Donate now
Please follow this link to donate, and support young girls growing into confident young women: https://girlsfromoz.org.au/support/donate/