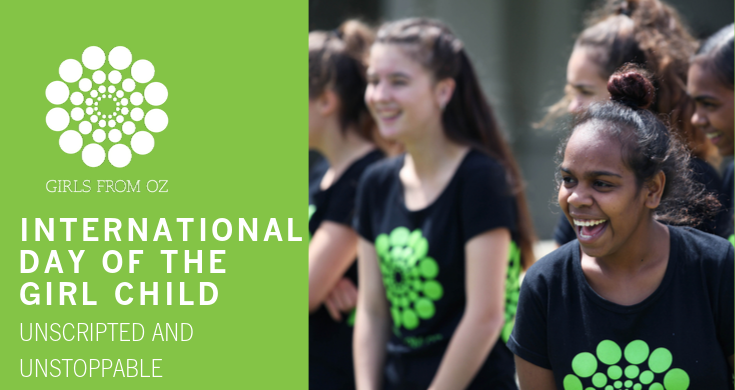 Happy International Day of the Girl Child!
The International Day of the Girl Child is a day of recognising the gender inequality girls face all over the world. This year's theme, 'Girl force: Unscripted and Unstoppable' celebrates the dreaming and achieving of girls [1]. It's also a celebration of movements lead by girls that are ending child marriage, promoting girls' education, demanding an end to violence against women and girls and so much more[2].
g-oz is proud of the role we have played to support girls living in remote and regional Australia, whose challenges are far beyond what some in Australia's urban centres may imagine. Harnessing the power of performing arts, we know that educating girls is vital to ending the poverty cycle. Our g-oz girls really can be unscripted and unstoppable.
g-oz girls can rewrite the script
The performing arts is a proven tool to boost school attendance and retention rates. In fact, a Griffith University study found students from Indigenous Communities engaged in performing arts programs had improved attendance at school[3]. While the 'script' in many remote town is that girls feel shame, skip school and even dropout, through our in-community programs we contribute to building the girls' the confidence and ability to rewrite the script. g-oz offers participants an alternative view, demonstrating the opportunities and choices available to the girls when they embrace their talents and reach their potential.
Our g-oz girls: Unstoppable
Our program can only be successful if girls want to engage with us. It's no secret that life in any small town in Australia has many different challenges than living in the big city. Logistically, it's harder to move around, and sometimes you have to travel for hours to get to essential services. This is particularly true in Lockhart River, where there is no secondary school in town. If girls want to go to high school, they must leave their families, friends and way of life to do it. On top of this, the town is completely cut off during the wet season between November and May, where roads are often flooded and unusable. Despite these challenges, our girls in Lockhart River, Halls Creek and Carnarvon dare to dream big, with plans to go to university, TAFE or gain meaningful employment. We have former g-oz girls studying at the University of Western Australia, achieving 90% attendance at school, or working.
On this International Day of the Girl child, it's important to  recognise our wins, and also to acknowledge how far we still have to go in achieving true gender and socioeconomic equality for girls living in rural and regional Australia. At g-oz we are incredibly proud of our unscripted and unstoppable girls who have the courage to tackle all of the challenges they face and embrace the opportunities before them.
Donate now
Our unscripted and unstoppable g-oz girls are supported through the generosity of our community of supporters. If you are feeling generous, please follow this link to donate and ensure g-oz can continue to support the next generation of unstoppable girls: https://girlsfromoz.org.au/support/donate/ 
[1] UNICEF 2019 'International Day of the Girl Child, Girl Force: Unscripted and Unstoppable', https://www.un.org/en/events/girlchild/assets/pdf/IDG%202019%20Concept%20Note.pdf
[2] Ibid
[3] Garvis, S & Pendergast, D 2010 'Does Arts Education have a Future in Australia Against Literacy and Numeracy', https://research-repository.griffith.edu.au/bitstream/handle/10072/34905/65036_1.pdf