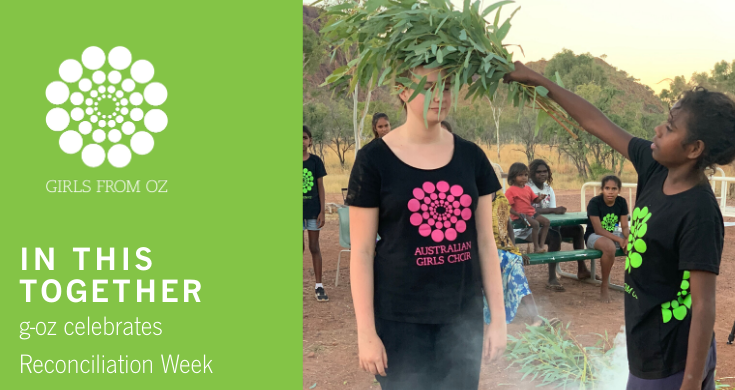 20 years ago, thousands of people took to the Sydney Harbour Bridge for the Walk for Reconciliation.
Although much progress has been made in reconciliation efforts since, there's still much work to be done. The release of the 2020 Closing the Gap report highlighted that in the communities we work in, attendance at school is reported to be on the decline. In 2019 the majority of very remote Indigenous primary school students only attended an average of 3-4 days of school and for secondary students that average dropped to 2-3 days per week.
This year, Australians are once again invited to walk together with Aboriginal and Torres Strait Islander Australians to achieve true reconciliation. Coinciding with the launch of our Giving Circles Campaign, we're inviting you to be a part of the change too. In supporting Girls from Oz (g-oz) you're helping us to continue to provide life changing opportunities to Aboriginal girls and young women to re-engage them in their education, and to show the next generation of girls that they too can dream big and be ambitious.
A long-standing commitment to reconciliation
Since the very beginning, g-oz programs have embodied Reconciliation Week's 2020 theme In this Together. g-oz strives to bridge the gap in education outcomes between Aboriginal and non-Aboriginal Australians, through the provision of high-quality performing arts education. After more than 10 years, g-oz has continued to work with communities to achieve our mutual goal of empowering girls to have the confidence to pursue a future that is meaningful to them.
Two-way learning is a valuable experience g-oz participants and Australian Girls Choir (AGC) host families go through during our annual Travel Program. In addition to g-oz girls adapting to and learning about life in the 'big smoke', AGC families are learning more about their country. Many host families reflect about this learning, and even wish to learn more about Australia by visiting the regions g-oz girls are from.
""We are excited to visit the Kimberleys and maybe visit the girls in Halls Creek. Everyone in the family has felt proud for hosting the girls, it really took little effort despite our first reservations, and has been such a rewarding experience."

– 2019 Travel Program Host Parent
Inviting all Australians to learn about their country, the two-way learning is also a key part of our community programs. For some of our Instructors, it's the first time they have travelled to remote Australia. Experiencing the difficulties of getting to remote communities. Multiple flights with hours between connecting flights, and long drives to get to town, g-oz Instructors gain a new perspective of their own country.
"In a week, I met a small community that somehow made the world feel so much larger. I saw parts of my country I didn't know could exist. I felt my understanding of Australian culture broaden beyond the city I grew up in."
-Greta Wilkinson, g-oz Instructor
#20kfortoday #20ktopavetheway
This year has seen an unprecedented amount of hardship for some Australians. First with the bushfire crisis, and now in the midst of COVID-19, we never imagined this year to turn out the way it did. Despite these challenges, g-oz is committed to continue to support the communities we have committed to for over 10 years now. While we are currently unable to visit girls in community, we're contributing this year's Giving Circles donations towards the annual Travel Program. This year, we're hoping to invite 26 girls from Halls Creek, Carnarvon and Halls Creek to Melbourne for a week full of educational, employment and vocational activities.
We're seeking your help to make it happen, by either donating to a Giving Circle, or committing to a monthly donation, so we can continue to create life changing opportunities to women and girls in remote Australia.
Donate here: www.givenow.com.au/girlsfromoz