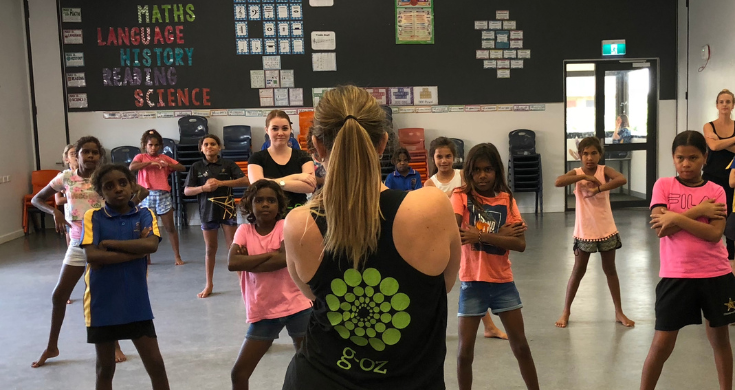 Last week marked the fiftieth Community Program visit for Girls from Oz to Halls Creek.
Instructors Tanya Romeo, Tiana Russo and Tiegan Denina spent the week leading singing, dancing and drama activities together with students as they participated in their school NAIDOC Week celebrations.
g-oz started visiting Halls Creek in 2010 and has been a consistent and reliable presence in the lives of students at Halls Creek District High School for the past twelve years.
Girls from Oz General Manager Kylie Lee-Archer was on the pilot trip to Halls Creek in 2009 and has participated as an Instructor on 15  Community Programs to the community since;
"The g-oz logo and a shared teaching approach has come to represent a safe and supportive space for girls to express themselves… We collaborate with Elders and local women (some of whom refer to g-oz as 'part of the family') and shape our classes with the school to ensure we're contributing to the community's long-term goals." We can't wait to see what shape our Halls Creek program will take after another 50 visits!