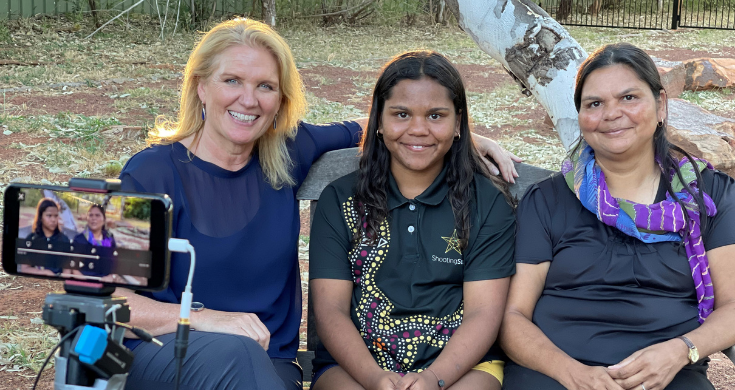 "We need our young girls to be our leaders, to share their stories, to have a voice, to challenge the things that are unfair and unequal." – Carolyn McAdam
Over the past twelve years, a range of people have contributed to the growth and development of Girls from Oz. As we move into the next phase, we welcome Sheila O'Sullivan to the role of Co-Chair. Sheila has had a wide-ranging career in advertising, public relations and public affairs, and is a long standing supporter of Girls from Oz. We are benefitting from Sheila's extensive Board experience as well as her passionate commitment to supporting the reforms expressed in the Uluru Statement from the Heart.
We're also delighted to welcome Carolyn McAdam to the Board. Carolyn is a Jaru and Gidja woman who lives in Halls Creek with her family and works as a Programs Manager for the Wunan Foundation. Carolyn has considerable experience in engaging with the government, advocating for Aboriginal people in the East Kimberley and has a particular interest in education. We first met Carolyn in 2010 when her eldest daughter, Kate, was an enthusiastic g-oz participant who travelled to Melbourne and Sydney on our first two Travel Programs.
While the Board resembled a hard working committee in the early years, we shifted to having a more strategic focus when Brenda Cherednichenko joined us as Co-Chair in 2018. Earlier this year, Vicki King stepped down after ten years and Brenda has recently regrettably resigned her role. We are grateful to them both for working with us to shape and strengthen this organisation.
Meet our new Board member Carolyn McAdam…
Last month, Co-Chair of the Board Nicole Muir (pictured above with Carolyn and her daughter, Skye) visited Halls Creek to meet with Carolyn. Hear Carolyn's thoughts about the challenges in their community, her hopes for the girls in Halls Creek and her important work with g-oz so far in her interview with Nicole.