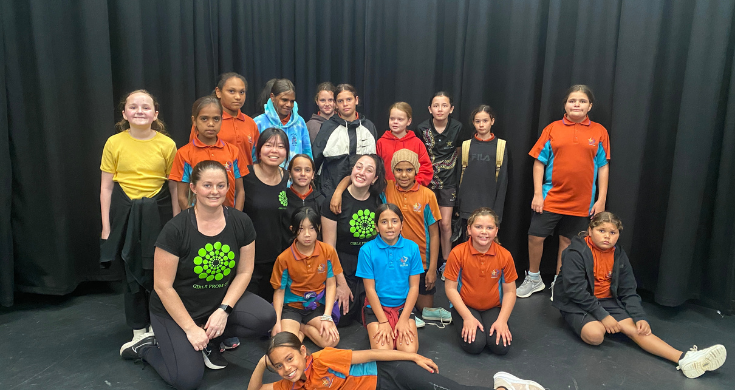 With over a decade of program delivery to four regional Australian communities, Girls from Oz is privileged to have experienced the talents, time and energy of Instructors from many backgrounds.
We are lucky to have Instructors who connected with us when we began in 2007 still involved today, volunteering their time and talent when they can around other priorities.
We have recently had one very special case of a beloved community partner, teacher and g-oz champion stepping in to the role of g-oz Instructor; Rachel Stamatovic, Deputy Principal at Halls Creek High School, turned Girls from Oz Instructor extraordinaire! Rachel recently stepped into the role of g-oz Instructor on our recent Term 3 Community program to Carnarvon.
When we visit our communities, it is common for the team to meet new faces. We wouldn't have guessed back in 2015 when we first met Rachel, a recent Music Teacher graduate, that she would one day become a g-oz Instructor.
Early on during our Community Program visits we saw Rachel's love for Halls Creek and the performing arts combine and very quickly, Rachel became our g-oz champion. She has hosted our Community Program visits four times a year for the past four years.
"When you are asked to be a part of the g-oz team, is there any other answer except YES?!" says Rachel of the recent Carnarvon trip. "For four and a half years, I worked very closely with the g-oz team, and I was excited to be travelling to Carnarvon Community College for the Term 3 program as a first-time Instructor…
Sitting on the plane on the way to Carnarvon I looked back over the moments I have shared with the Girls from Oz program in the past; 18 week-long Community Programs in Halls Creek, 4 Travel Programs to Sydney, Brisbane and Melbourne and 3 local camps in the Kimberley. Despite this experience, I knew this time would be different. This time I was on the other side of the story..
We landed in Carnarvon and hit the ground running. I have always seen the magnetic pull that g-oz has on the students, but experiencing it firsthand was something else. Despite the girls not knowing our names, they immediately recognised the g-oz logo and knew who we were and what we stood for.  "
Rachel was not only able to take her skills of 'singing big' to the classroom in Carnarvon, she also spent the week bonding and encouraging the girls to participate in the sessions and to be brave and engage.
Rachel, along with other Instructors Shane and Ciara, spent the week with students from Year 1 all the way through to Year 12, learning new songs and dances together and sharing their love for performing arts.
"The girls were full of energy and it was fantastic to see them bring this energy to each session. We invited two senior school students, Heather and Aliyah, to participate in our mentor program and they joined us for the Year 1 session. We hope to organise a large community performance next term to showcase the fantastic work the girls have done over the course of the whole year!"
"At the end of the week, I left Carnarvon with a full heart. It was as if I had found a piece of myself that I didn't know was missing." 
We look forward to Rachel joining the Instructor team for the second time when we visit Carnarvon again in November.
Watch this space!