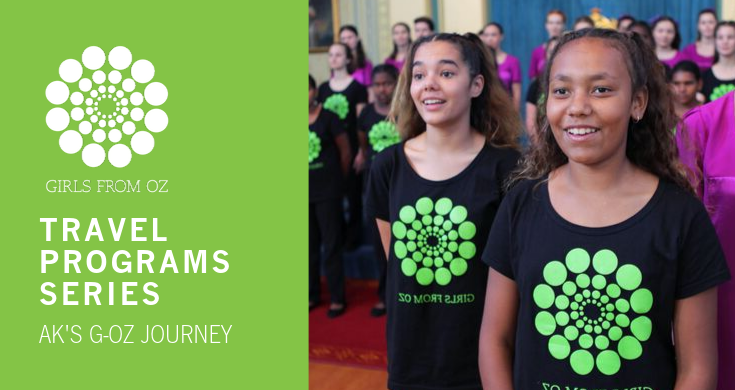 AK has a long history with g-oz
From kindergarten in Halls Creek, to performing at Hamer Hall. AK's confidence has grown with the g-oz program.
Taken in Halls Creek in 2010, the two little girls pictured in this photograph took part in the inaugural 3-way combined Travel Program to Melbourne at the end of 2018. These little girls have been learning, singing and having fun with g-oz for ten years.
AK, marked in yellow, has been involved with g-oz since she was in kindergarten. When asked why she loves g-oz, AK said, "g-oz made me have more confidence. Now I can dance all over the place… I feel so much better having no shame in me anymore".
In May, g-oz Chair Nicole Muir spoke with AK's mum, Rose. She said when AK joined g-oz it was, "exciting for all of us. Seeing her get out there more, explore and make new friends. She loves it. She has that bit of fear [before performing], but then as she's out there, she just opens her heart up."
From being frightened to dance in public, to singing solo in local language at her school concert, visiting Perth and performing for the Governor of WA in 2017, and then performing to an audience of more than 2,000 at Melbourne's Hamer Hall last year, AK has come a long way. As well as being a fantastic performer, Ashlyn's already dreaming of becoming a vet and helping animals.
During her two Travel Program experiences, AK developed a particularly sweet bond with g-oz Director and co-founder, and Founder of the Australian Girls Choir, Judith Curphey (pictured below).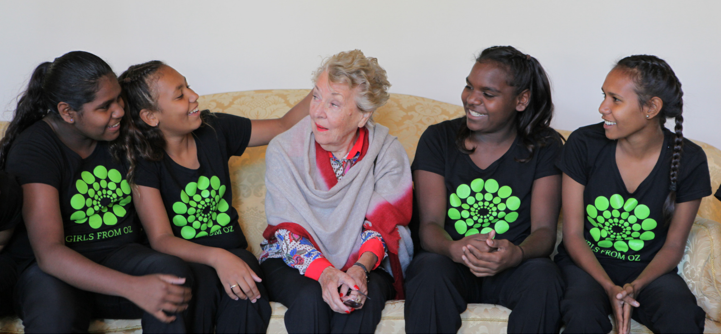 AK is now in year 8 at Halls Creek District school and is still engaging with g-oz programs when we visit for times a year.
With less than two months to go until the 2019 Sydney Travel Program, we are pleased to be able to reflect on the growth, relationships, learning and goal-setting made possible through the program for AK and many other girls in Halls Creek, Carnarvon and Lockhart River.
Community support is key
Our ability to run and offer these programs to girls like AK is only possible with the support of our wider community. Thank you to those who have donated, and if you are feeling generous please follow the links below to donate.
Donate now
Please follow the link below to support girls grow into confident young women: https://girlsfromoz.org.au/support/donate/