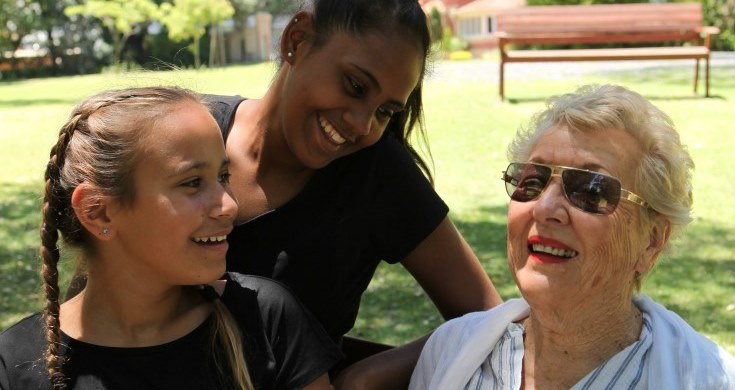 In the tenth anniversary year of g-oz, we were excited to have ten girls from Halls Creek spend an action packed week in Perth where they connected with former teachers and older girls from their home town.
In the past eight years we've had the pleasure of developing many strong connections with people associated with Halls Creek. During this trip to Perth it was especially wonderful to be able to show off the skills of our girls to former teachers of Halls Creek District High School (HCDHS).
There are so many stories from the week but our favourites are all about the friendships:
Judith Curphey, Australian Girls Choir (AGC) Founder, and her school friend from 75 years ago who first talked about g-oz in Halls Creek in 2009 being involved in the filming of our mini documentary,
Di Tomazos, Alex Maskeill and Phil Collins who all previously taught at HCDHS attending the AGC concert at the Perth Concert Hall and shedding tears of pride when they saw the girls perform,
Celine Tait, who was on the first g-oz trip to Melbourne and is now living at St Catherine's College at the University of Western Australia, coming to see her Halls Creek 'sisters', and
Ooen-s'tae McDonald, now 14 years of age, returning to Perth (three years after her first g-oz trip) where she re-connected with her AGC family and performed her second solo at Perth Concert Hall.
The girls had an incredible week of activities that also included mentoring sessions, a performance for some funders at the 100 Women celebration dinner and morning tea with the Governor of Western Australia.
We were very proud of everything that the girls achieved, from shaking hands and conversing with new people, to singing with confidence and most importantly trying a number of new things that really challenged them. We really believe these girls can be anything they want to be.
Congratulations on a wonderful week Amahlenah, Ashlyn, Brenda, Chloe, Darrilyn, Heidi, Jahn-Edda, Kellie-Anne, Nancy and Ooen-s'tae!