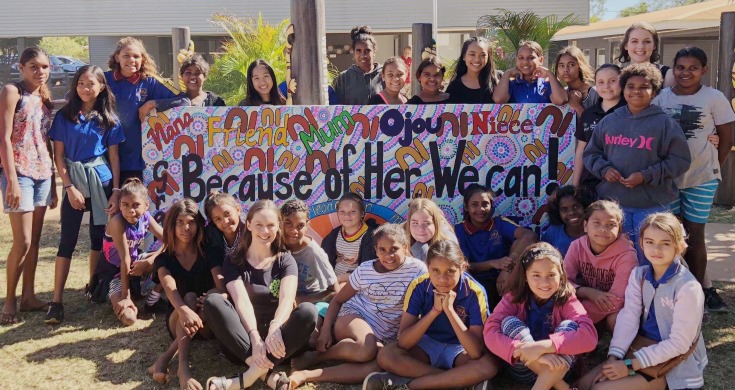 After getting the chance to work with the g-oz team as a media intern for the #finding40 Giving Circles campaign in 2017, I can't describe my excitement when I was invited to travel to Halls Creek as a g-oz Instructor in June.
Throughout the week the g-oz team had the opportunity to work with both girls and boys from Kindy all the way up to Year 4. Though some were nervous coming into the room, once we started the sessions everyone was ready to jump up and join any activity, song or dance we threw at them. They all had a bit of giggle when we danced to 'Peanut Butter Jelly', and danced their hearts out.
The highlight of the trip for me was working closely with the Year 5/6 and secondary school girls ahead of their big performance at the school's NAIDOC Week ceremony. To prepare for the performance we spent time discussing confidence, teamwork and the power of relating the song lyrics back to their own lives and experiences. I was in awe of how courageous they were to share their fears and aspirations with someone they had just met.
It was evident that all the g-oz discussions and activities stuck with the girls when we had a whopping 30 girls show up to perform at the ceremony! Seeing them support each other, speak confidently and have fun was unforgettable. I could not have been prouder and couldn't wipe the smile off my face all day.
In just a week, I have had the opportunity to educate, support and share my knowledge and love of performing arts with the girls of Halls Creek. In return, they have proudly taught me about their country, language and culture.
This trip to Halls Creek was nothing shy of extraordinary, and was such a humbling experience. Saying goodbye to the girls was bittersweet and I returned home to Brisbane looking at the world in a different way. I cannot wait to go back and do it all over again!
By Lani Gibbins, g-oz Instructor, Halls Creek June 2018