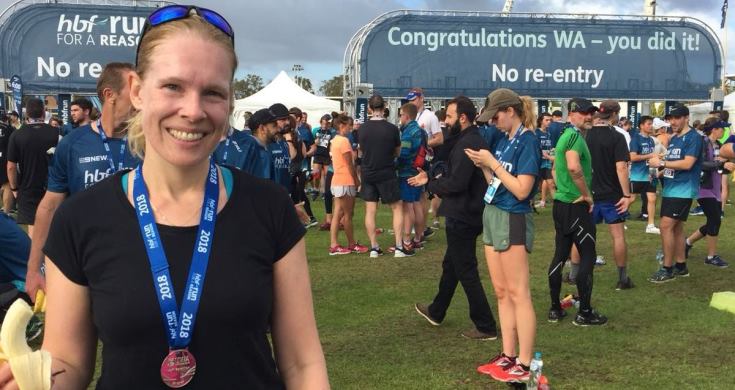 After six months of preparation, 50 hours of training and more than 500 kilometres of running it was finally the day of the big event; the HBF Run for a Reason (the 'reason' being g-oz!)
I participated in the UWA Half Marathon component of the event and the day started very early. At 4.45am I began getting ready and boarded the train to arrive in Perth central at 6.00am. At 6.45am the race began. We experienced drizzle, some heavier rain, a few moments of blue skies and then some more showers during the run.
With 35,000 participants in the half marathon, 12km or 4km, it was such a large event with a truly amazing vibe. I felt nervous before the run, but once we started, I felt the training paying off and I was able to trust that I was capable of finishing well. I am so lucky to have found a supportive and empowering running group that helped me to prepare for this run. We were in it together!
I was very pleased to complete the run with an official finishing time of 1.56.05. More importantly, I was able to reach my goal of raising $2,000 for g-oz. I am so happy this will assist the program in breaking the cycle of poverty and helping girls to pursue opportunities in education and their future lives. I wish all the g-oz girls well, and will miss working with the Australian Girls Choir tremendously.
I am extremely thankful that I was able to help in this way. If you have not yet donated, please contribute to a Giving Circle via GiveNow.
by Betthilde Keij, g-oz Giving Circles Coordinator