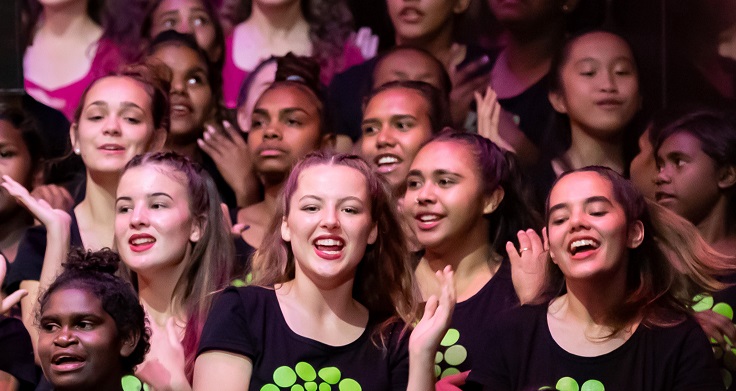 Last year, on the 12th of November, I was fortunate enough to have the opportunity to fly across the country to stand alongside hundreds of girls and perform in front of thousands of people.
I was one of ten lucky Carnarvon Community College students selected to represent my school and community as part of the Girls from Oz Travel Program to Melbourne. We met new people, made many new friends, lived with a family we'd never met, and rehearsed as a team. This was my second trip to Melbourne with Girls from Oz, and both experiences have taught me many life lessons, mainly to believe in myself and find my inner confidence.
There were challenges involved in being 4,000 kilometres away from home, but any nerves or homesickness were calmed by having such caring AGC host families looking after us. My host family, the Kuleszas, were amazing; they were so loving and giving. Though our stay was only for a week, I will never forget the welcoming and loving feeling I received from them. Being in such a big city was quite overwhelming for 10 girls from a town with a population of less than 4,500; however living with such a thoughtful family really altered my view.  I am grateful to have learnt a lot from them. They have inspired me in many ways.
The trip concluded with a concert at Hamer Hall where we performed with over 600 hundred of the Australian Girls Choir. I would like to give a big thank you to Nicole Muir, the AGC and g-oz teams, the beautiful girls in the choir, our amazing host families, and all who give their time and effort to support the g-oz program. It means the world to us.
By Mackenzi de Sales Brown, g-oz 2018 Melbourne Travel Program participant – Carnarvon