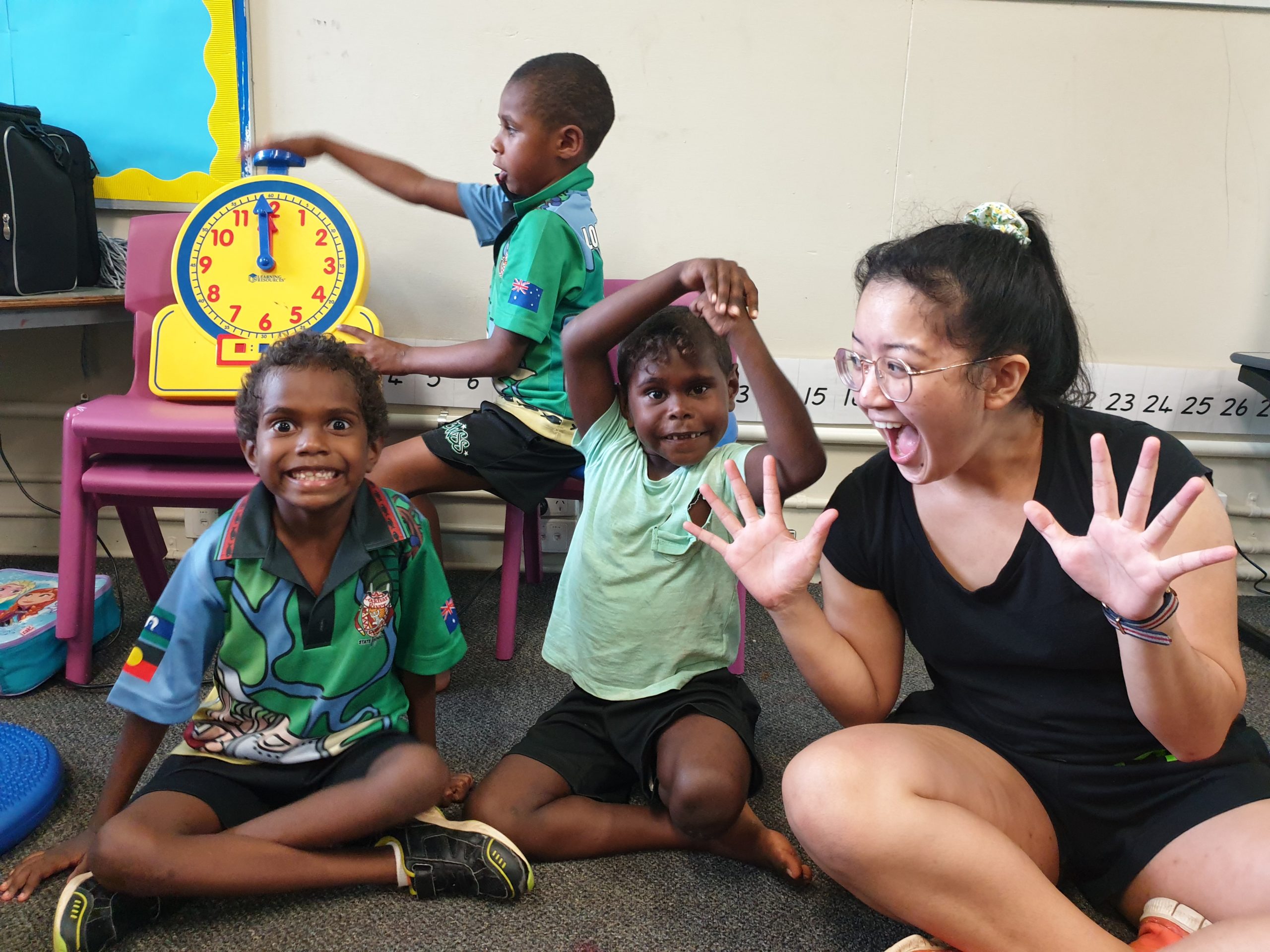 In what has been a tumultuous time for arts education, and the arts more broadly, Girls from Oz is delighted to return to Carnarvon, Halls Creek and Lockhart River in Term 3 to deliver their first 2020 community performing arts programs since early March.
With interstate Instructors unable to cross borders into Queensland and Western Australia due to COVID-19 restrictions, g-oz took the decision to have all Term 3 programs delivered entirely by state-based teams. While this will mark the first g-oz teaching experience for many new Instructors, for Australian Girls Choir (AGC) alumnae, Portia Elliott, Chiarra Collins and Ella Farrington, an affinity with the g-oz mission runs deep.
Having performed alongside her Halls Creek g-oz sisters on the stage of Perth Concert Hall in 2017, and organised plenty of fundraising dress up rehearsals as part of her role as the 2019 AGC Perth Choir Leader, Portia can't wait to immerse herself in Carnarvon culture this week.
"I've met and performed with girls who live hundreds of kilometres away from me, and I'm so excited to now visit their home. Especially when it's such a beautiful and culturally significant part of my own state."
But none are perhaps quite so enthusiastic as Brisbane's Jazmine De Castro, and for good reason. Jazmine and her older sister, Eliza, both joined the AGC at age five and consider performing arts education an incredibly formative part of their lives.
"As choristers, we really enjoyed how the AGC gave us the opportunity to connect with girls from different backgrounds, schools, suburbs, and states, and gave us a safe environment in which to share our love for music. Being able to experience so many positive experiences with other like-minded, supportive women allowed us to develop a level of confidence that we still carry in our day-to-day lives. The performing arts gave us the confidence to feel like we could tackle any situation thrown our way."
Having delivered her first g-oz program in Halls Creek in March 2017, Eliza has since visited Lockhart River twice, and each time she is in town, is welcomed with open arms.
"Having lived in Queensland my whole life, it has been such an eye-opening experience to explore such a beautiful and untouched region of my home state that most people don't even know exists. From the vast stretches of ocean and surrounding bushland to the resilient yet welcoming community, Lockhart River is like no place that I have ever visited before. I travel to Lockhart River with the intention of teaching, however I always end up learning more from the students and members of the community than I could ever hope to teach."
Graduating in 2013, Eliza went on to pursue studies in health science and is now a qualified paediatric physiotherapist. Despite her career being so far removed from music and performance, Eliza chooses to continue pursuing these passions outside of work, and credits many of her professional skills as having been developed through her learnings at the AGC.
"I became a chorister in the hopes of further developing my vocal technique and music knowledge, whilst also wanting to build my confidence. However, I ended up gaining more than just musical skills – through my performing arts education I learnt the importance of resilience, organisation, commitment and teamwork, which are values I still carry with me today."
The concept of sisterhood among g-oz and AGC girls is a strong one. Often affectionately referring to each other as "respect sisters", AGC and g-oz participants are bonded through a mutual respect and appreciation for one another as women, despite leading vastly different lives and the physical distance between them. Girls who participate in both programs have access to new ways of thinking, new experiences and new opportunities, and are encouraged to celebrate their shared experiences as well as the learning that comes from their distinct individual and cultural differences.
And how does Eliza feel about sharing this professional, yet profoundly personal experience with her own sister in Lockhart River this week?
"My sister and I have always had a close bond. We would share everything together like our toys, clothes, and even our love for the performing arts. Growing up, my sister was my confidant, my cheerleader, and my best friend that I couldn't get rid of… I hope that together we can share the power of sisterhood with the young women of Lockhart River and inspire them to surround themselves with like-minded, supportive women throughout their lives."