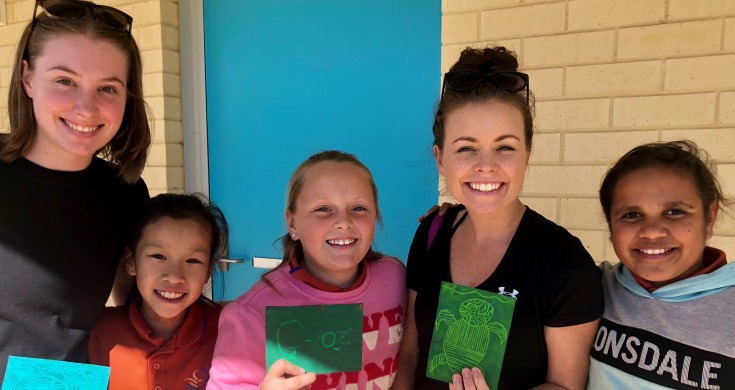 Kylie, Isy and I touched down in Carnarvon on a sunny Sunday afternoon filled with excitement for the week ahead.
This week was going to be significantly special for a couple of reasons. Firstly, the trip was planned to coincide with the school's celebration of NAIDOC Week. We all felt extremely privileged to be able to witness and participate in this important celebration. And secondly, it happened to be Mike Henderson's (the principal of Carnarvon Community College) final week before he set off on his retirement. Mike has been a huge supporter of the g-oz program since it first started in Carnarvon and later in the week when we had our annual "meet and greet" he told us that endorsing the g-oz program has been one of the proudest moments of his career. Wow!
The NAIDOC theme for this year is "because of her, we can". This theme became a focus point in all of our sessions throughout the week and gave the girls the opportunity to open up and speak about important women in their lives. We were invited to perform at the school's NAIDOC assembly on Friday; with only four sessions to create and rehearse their performance items the girls all had to work extremely hard! They performed two combined items with girls from Years 5 -11. For their first item they sang 'Brave' as a choir and for their second item they performed a dance to 'Girl on Fire'.
Despite the girls being a bundle of nerves and excitement before the performance, every single one of them stood proudly and performed with confidence. You know it is a special performance when you look around and see the teachers and parents with smiles on their faces and tears in their eyes. What a moment it was to watch the g-oz girls dancing and singing their hearts out in honour of women… the perfect way to end another incredible g-oz trip.
By Anna Cooper, g-oz Instructor, Carnarvon June 2018