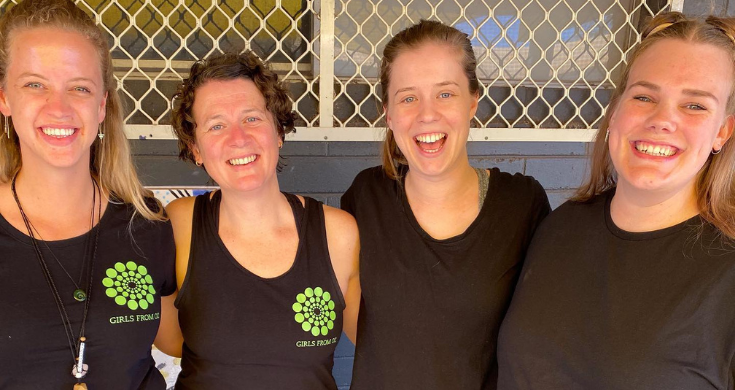 Girls from Oz 2020 Term 4 Newsletter
Welcome to Term 4! After our programs had to be cancelled in term 2 due to COVID-19 we experienced an incredible Giving Circles fundraising campaign in June and now it is a joy to be able to return to delivering our usual programs with state-based Instructor teams from across Australia. Read all about what's taking place in Girls from Oz's world in Term 4 below.
Girls from Oz Programs
Carnarvon, WA
In Carnarvon, we work with girls in years 3-12 at Carnarvon Community College, a Kindergarten to Year 12 school. A typical week in Carnarvon sees us undertaking at least 24 hours of program delivery, which includes a combination of singing, dancing and presentation skills.
Our Term 4 visit to Carnarvon coincides with Carnarvon Community College's end of year celebrations for their year 12 students (some of whom have been singing and dancing with us since primary school!) Our participants will work with g-oz instructors Portia, Chiarra and Melissa to create a performance for the year 12 farewell assembly.
Halls Creek, WA
In Halls Creek we work with all children up to grade 4 and girls in grade 5-12 at Halls Creek District High School (HCDHS), a Kindergarten to Year 12 school with over 350 students, of which 96% are Aboriginal. A typical week in Halls Creek includes singing and dancing with the participants at school but also visits to Little Nuggets Child Care, Liliwuns Playgroup and Kindilink all run by the town's Child and Parent Centre. As well as delivering our own content, we now partner with the Kimberley Language Resource Centre to include the local Aboriginal languages Jaru and Kija into our program delivery.
In Term 4 our g-oz Halls Creek program coincides with the community's NAIDOC celebrations! Girls from Oz participants will work with our Instructors Belinda, Chiarra and Melissa, our friends at @Shooting Stars and local women to put together a performance as part of the celebrations. We're looking forward to celebrating this year's theme, Always Was, Always Will Be.
Lockhart River, QLD
In Lockhart River, Girls from Oz works with girls in Years 3-6 at Lockhart State School. We also work with the town's youth group and the 'mums n' bubs' group at the Kuunchi Kakana (families together) Centre.
Lockhart River has had a tough year with the community suffering from restructured activity due to COVID-19 and a prolonged period of Sorry Business. Brad, the Acting Principal at Lockhart State School, is excited to welcome g-oz Instructors Eliza, Georgia and Lani to bring some fun and joy to the school for the week.
Girls from Oz celebrates our 13th birthday!
Girls from Oz celebrates our 13th birthday on October 12! Girls from Oz was born out of a desire to contribute to finding ways to improve educational and employment outcomes for girls living in remote and regional Australia. 13 years on we've delivered 92 week-long programs in community and 16 Travel Programs where g-oz participants visit an Australian capital city.
Planning begins for the 2021 Travel Program
Our 2020 Travel Program has unfortunately been postponed due to boarder closures, but our programs team have already begun work dreaming up an early-2021 replacement program. This means girls in Halls Creek, Carnarvon and Lockhart River can look forward to two opportunities to travel with us in 2021!
Be sure to follow us on Facebook and Instagram for on the ground updates of our programs kicking off next week!