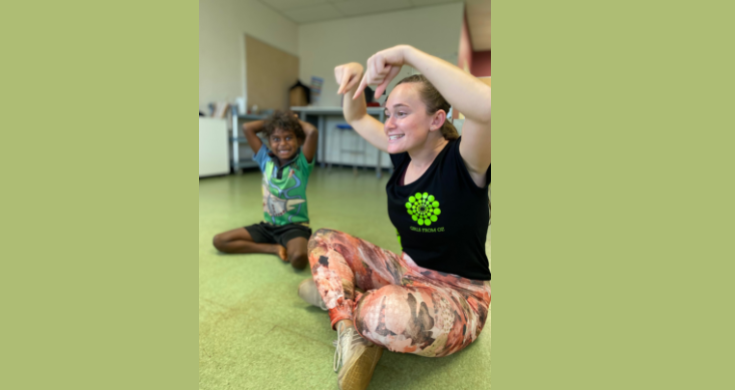 Term 3 saw eleven wonderful Instructors complete five Community Programs.
We had four Instructors visiting community for the first time and we were welcomed with open arms in our newest community, Bidyadanga.
It was our 50th week of delivering successful, supporting and engaging programs to the community of Halls Creek, while we made our 25th trip to Lockhart River, our 37th to Carnarvon and our fifth to Kowanyama!
We reached 280 kids across the five trips and we spoke to some of our Instructors about their experience over the week.
Read along from each of our Instructors and hear first-hand of the recurring themes of growth, engagement and confidence building.
First reflections of Lockhart River
"Where to begin! My first g-oz trip has been the highlight of this year. I feel really lucky to have travelled to the beautiful community of Lockhart River alongside the wonderful and experienced Isy and Sam.
Across the week we saw increased attendance at school and so much growth; confidence from the girls to use their voices and sing out strong and proud, contribute to group conversations and bring so much passion to their dancing. There were plenty of smiles and laughs in every session.
After school, you would have found us sitting out on the deck of our accommodation sharing stories from the day and planning for the next, and exploring the beach and walking tracks through the lush rainforest!
Just as we were about to leave, one of the year 5/6 girls told us she wants to work for g-oz when she finishes school (and goes to university). What a fantastic way this was to finish our trip. It is so rewarding to be a small part of that. I would go back in a heartbeat!" – Ainsley Summerton, VIC
Returning to Lockhart and seeing the growth 
"It was an absolute treat to return to Lockhart earlier this year in Term 3! Even in just one short week, we saw some unreal growth in confidence and huge skill progression across the board – in some groups, the students even insisted on creating and implementing their own choreography into routines and asked to perform for the class on their own! The senior girls brought their deadly flare (and sass) to each and every session.
Most of them having participated in many many g-oz programs, they were enthusiastic and ready to learn from day 1. Since seeing the girls last in 2019, I noticed they had really matured and grown as young women. They had such a hunger to learn and to share their stories, ambitions and passions with us and it was a privilege to witness their compassion, support and encouragement of each other, especially when performing and singing together.
One of the most heart-warming moments of the week came at the very end of our trip, when a senior girl expressed her ambition to work for g-oz in the future, as well as going to university! What a wonderful reminder of the limitless possibilities, academic and otherwise, awaiting all young girls! I can't wait to see where they go from here!" – Isy Bales, ACT