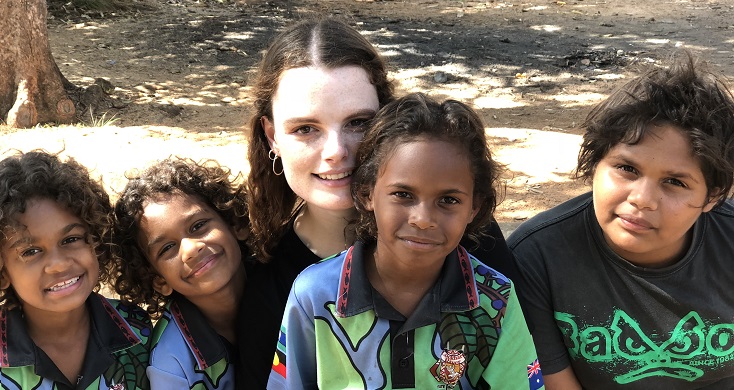 I have landed in Melbourne after a week of hot sun and tropical jungle in Lockhart River. This trip was my third with g-oz, and I feel with each visit an easier transition into teaching and connecting with the kids. It is always an exciting experience going up with a new team and I learnt so much from watching Rachel and Ginger interact with the community. Team teaching provides a wonderful opportunity to reflect on your own teaching, and to sit and observe others.
This trip I was particularly impressed by the senior students' engagement during the repertoire sessions. The girls worked with sheet music and lyric sheets and were focussed on discovering musical terms and navigating the score. They even corrected me, Rachel and Ginger if we made a lyrical mistake or said the wrong bar number! The girls demonstrated great concentration and had a great time working on body percussion, get to know you activities and any game involving putting on a detector hat.
One hot afternoon, we visited the Dr Seuss style 'water park' where the kids squealed with delight as buckets of water rained down on them. It was equally fantastic seeing Narella and Clerissa down at the main beach, fishing with their knives. I'm often moved by just how warm and welcoming the community is, even outside of the classroom. Most days we would walk along the vibrant red dirt with the girls, playing hand clapping games and discussing our favourite foods, sports and music.
We also had a hilarious time with the Kindergarten and Pre-Prep children. Often we would walk across the school as they called out "GIRLS FROM OZ!!!" or see the students link arms and begin cheekily singing songs from our sessions. Seeing the curriculum make its way from g-oz sessions into a regular school day was really special.
It's really quite a task to put into words what these trips are like. They invoke a lot of reflection and I always return home feeling energetic and inquisitive.
By Samantha Andrew, g-oz Instructor, Lockhart River October 2018