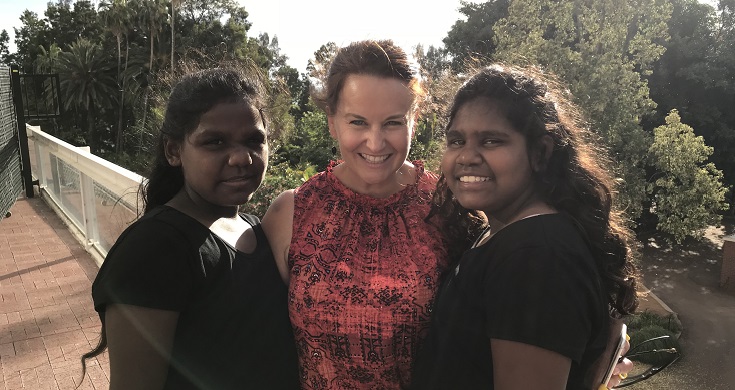 Fresh off the plane from Carnarvon to Halls Creek, today our Program Director, Kylie, celebrates her 30th g-oz trip!
11 years ago Kylie joined with the Directors of the Australian School of Performing Arts (ASPA) as they dreamt up Girls from Oz.
Since then she has nurtured the program and been instrumental in turning it into a powerful educational presence in the lives of young women living in remote Australia.
In the very early stages of g-oz history, Kylie travelled to Chiang Mai on one of g-oz's inaugural trips (2007), before visiting the Northern Territory for YouthWorx in 2008. Ten years ago, she and our Chair, Nicole, piloted the g-oz program in Halls Creek and since then she has piloted the model in Carnarvon and Lockhart River. Last September, Kylie lead a 3 day workshop to prepare Carnarvon girls for their feature in the Westpac Foundation's national promotional campaign, including recording hold music and filming a stunning visual clip for the bank's billboards and ATMs.
In addition to her role as the General Manager of Business Services for ASPA, and these 6 milestone trips, Kylie has found the time to deliver 24 Performing Arts Intensives since 2010, including 12 in Halls Creek, 8 in Carnarvon and 4 in Lockhart River.
Kylie's dedication, belief and pragmatism have been key in sustaining and growing g-oz relationships across Australia and engaging girls in education. Thank you and congratulations, Kylie.