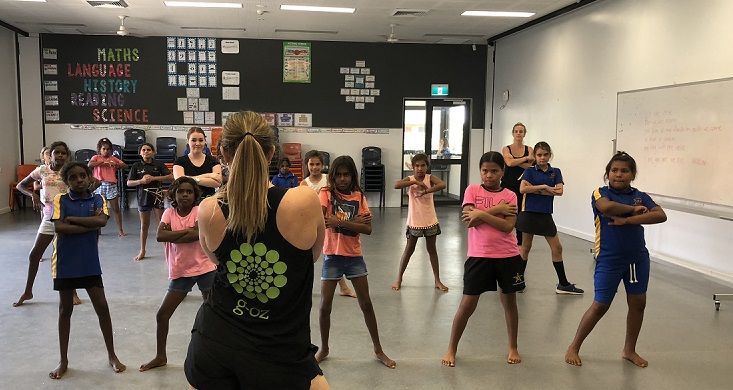 At the end of a big week in Halls Creek, Laura A, Ashlee and I spoke with long-time g-oz participants Sherose (Year 10), DJ (Year 11) and Nikayah (Year 10) about their g-oz experience and their ambitions for life after school.
"We have all been participating in g-oz since we were in Year 3 or 4 at Halls Creek District High School and between us, we have been on the Travel Programs to Brisbane, Sydney, Perth and Melbourne.
This week our favorite activities were learning the song Better When I'm Dancing and the Like It Or Not dance routine. We enjoyed the new challenges and dance moves with these upbeat songs. Next term we are looking forward to meeting the Australian Girls Choir girls that are coming to visit so we can show them around our home town. Performing together on the big stage at Kimberley Moon in Kununurra will also be great.
This week we also focussed on International Women's Day and what it means to us to be a girl or a woman. We brainstormed words and talked about our goals and ambitions. The secondary girls came up with a lot of great words about what women can be… Strong, brave, smart, caring, able to do any job, confident, proud, compassionate. We each have different goals for what we would like to achieve after school."
Nikayah said, "I would like to be a professional football player just like my two older brothers. I hope that when I reach this level women footy players will be paid the same as men. I would also like to attend the University of WA (where I've been with the g-oz Travel Program) to study Midwifery.
DJ said, "I visited Melbourne University on my g-oz Travel Program last year and I would like to go to there and study to become a doctor."
Finally, Sherose said, "I would like to attend the University of WA and become a lawyer. I have great debating skills and want to put these strengths towards a degree."
We are proud of the big dreaming of these three special young women.