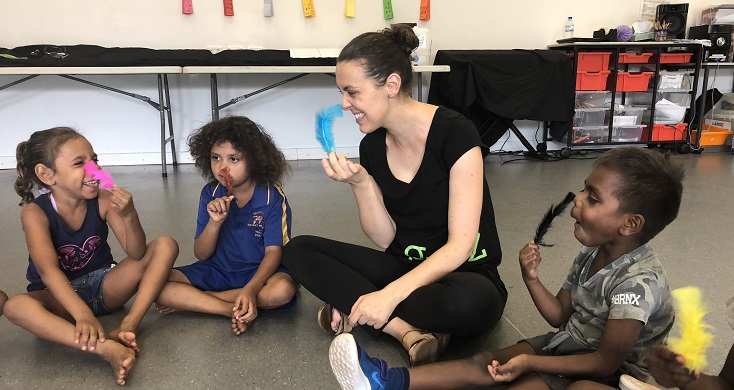 I'm fortunate enough to have been visiting Halls Creek since 2010 and have just returned from my 11th trip where I was blown away by the girls' energy, drive and commitment.
Prior to this trip, I was last in Halls Creek in Term 1 of 2016 when I was pregnant with my first child. My little one has just turned 2 and he's grown up seeing photos and videos of what he calls "Mummy's girls". He tells me they "do good singing and clapping". I'm not sure where he gets the 'clapping' from but he's certainly right about the fantastic singing.
Coming back to Halls Creek after this hiatus was incredibly rewarding. Seeing just how far the girls have come with their performance skills and reconnecting with senior girls who I've known since they were in Kindy were highlights of the trip for me. Being back in the Halls Creek community was another highlight – it's a very special part of Australia, and one I can't wait to show my little one someday.
In just over a week, 24 girls will be travelling to Melbourne on the g-oz Travel Program. I can't wait to see these talented Halls Creek girls do themselves, their families and their school proud:
Chelsea Gilligan
DJ Calwyn
Amelia Herbert
Amahlenah Bedford
Shaznae Dempsey
Yolaynah Dolby
Lynley Foynes
Ashlyn Keddie
Chloe Martin-Cox
Ritzana Patricio
Congratulations girls!
By Sally Gawley, g-oz Instructor, Halls Creek October 2018