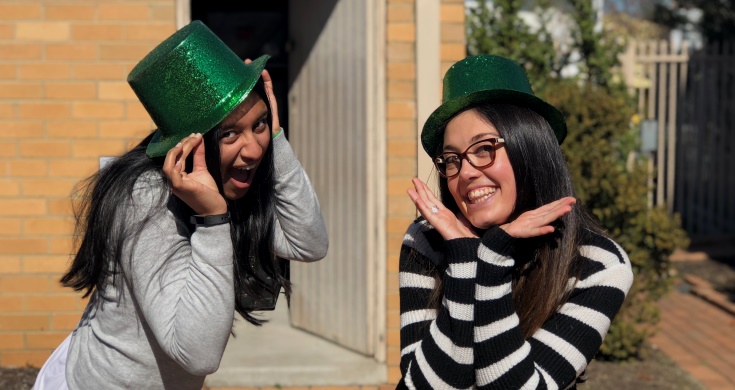 Pictured: g-oz Communications Assistants, Kimi – Programs (left) and Georgia – PR (right).
Meet our Communications Assistant – PR, Georgia! We got an insight into how she came to be on the g-oz team, what her role entails, and how she believes a performing arts education can contribute to shaping the lives of young people.
1. When did you first become involved with g-oz and why?
I first became involved with g-oz indirectly as a member of the Australian Girls Choir. During my senior years in the choir, g-oz was in its infancy and all I really knew about it was that the Directors were providing performing arts workshops for Aboriginal girls. I began working with g-oz at the beginning of 2017 after completing my undergraduate degree in criminology. I'd been involved with the Australian School of Performing Arts since I was 7, and after focussing much of my study on youth justice reinvestment and the overrepresentation of Indigenous people within the criminal justice system, working at g-oz perfectly combined my interest in social justice and love of performing arts.
2. What do you do in your current role?
I liaise with our great network of donors and supporters, work closely with our Chair to apply for grant funding and dream up fun and meaningful social, digital and traditional media content. It's a pretty great mix of things!
3. What impact do you think a lack of access to performing arts education has on young people living in remote areas in Australia?
I think most people who have had access to a performing arts education can see the 'hidden' value. Practising performing arts, especially in a group, encourages growth in confidence, increased self-esteem, and introduces you to the concept of positive failure. You learn it's ok to make mistakes and that builds your capacity to try new things and dream big. To deny someone that skill development due to their geographical location or financial situation is hugely impactful.
4. Do you think limited access to performing arts education in younger years limits young peoples' opportunities to work in the professional industry?
I think it's incredibly difficult to expect young people to strive for a career in any industry if they're not aware of the opportunities that exist. This is largely why g-oz developed a Travel Program, to encourage young women to explore the possibilities outside of their own small towns so they have knowledge of what pathways are available educationally, vocationally and in employment.
5. What kinds of performance opportunities are available to students in g-oz program locations?
We are fortunate to have developed some great community partnerships in our program locations. We have been working with the community of Halls Creek for nearly 10 years, and last year put on our most accessible community performance yet at Shire Park. Last year some of our Carnarvon girls also had the opportunity to record some hold music for Westpac in the town's Civic Centre. Mostly though, the towns in which we operate are incredibly small and do not have performing arts centres or similar facilities.
6. I understand that g-oz takes a select group of students to an Australian capital city each year to perform with the Australian Girls Choir at their Annual Concert. What impact do you believe this has on the students who are chosen?
The girls who participate in our Travel Programs have the opportunity to experience a week-long itinerary of educational and performing arts activities, culminating in a performance alongside the AGC. As I mentioned earlier, they are able to gauge what opportunities are available outside of their home towns, and this allows them to start visualising their futures. Girls are selected for the Travel Program after they have demonstrated strong engagement in the program and have had excellent attendance at school and in g-oz workshops. In this way the Travel Program is aspirational by rewarding commitment and promoting engagement in education for all g-oz participants.