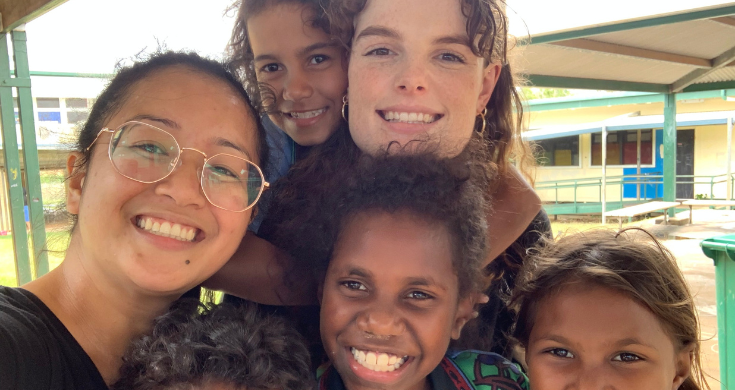 g-oz has been awarded over $97,000 in grant funding in recent months, from a variety of bodies, which will go towards supporting multiple upcoming g-oz projects.
The Foundation for Rural Regional Renewal has contributed $9,212 via its Strengthening Rural Communities Program for the Helping to keep Language Alive in Kowanyama project, a traditional language transcribe & translate project in conjunction with the community of Kowanyama.
A first-time recipient of FRRR funding in 2020, g-oz received $10,000 in partnership with the Westpac Foundation as part of their Community Grants program.
Ansvar Insurance provides grants to support Australian youth and promote education and has contributed $25,000 as part of its Community Education Program. These funds will go towards the end of year Travel Program to Melbourne in November this year.
Phil Gare, Chief Operating Officer of Ansvar Insurance says, "We are delighted to be able to help support the Girls from Oz annual Travel Program, we hope the girls have a wonderful experience and look forward to hearing more about their journey in song."
$50,000 in funding has also been secured via the IOOF Foundation. Girls from Oz has been receiving generous support for the Lockhart River Program since 2018 and this $50,000 investment takes the Foundation to a total contribution of $260,000. The funds will cover the 2023 Program in Lockhart River.
Coca-Cola Australia Foundation has awarded g-oz $13,470 for a Halls Creek Leadership Development Program, via their Employee Connected Grant. These grants support projects in communities where Coca-Cola Australia employees live, work or have personal connections. Lucy Toulmin, AGC Alumni and Coca-Cola Australia employee, chose to partner with Girls from Oz on the grant, which will support the Halls Creek Training and Mentoring Program.
Lucy says, "The AGC invested in me, the next generation and my future, and this is exactly what the Halls Creek g-oz Training and mentoring Program does. The impact that being a part of a group of women who had the joy and privilege of learning and performing together was so enormous, that I want to invest in the next generation through Girls from Oz."
Lucy spent 10 years with the AGC, was a Venue Manager in SA and NSW for five years and has worked on Concerts in Adelaide, Sydney and Canberra over the last ten years.
Lucy's relationship with g-oz goes way back to when she hosted a Girls from Oz High Tea fundraiser in Adelaide in 2015 as part of an AGC National Tour at The Hewett Centre, where she was Function Coordinator.
On behalf of Coca-Cola Australia Foundation, Malcolm Hudson, Chair said, "As a result of a nomination from Lucy Toulmin, Project Consultant at Coca-Cola Europacific Partners, we're delighted to award a grant to Girls From Oz in recognition of the organisation's commitment to arts education, training and mentoring.
Lucy is an Alumni and ongoing supporter of the Australian Girls Choir, and it's clear that Girls from Oz is very close to her heart. The ambitions of the Halls Creek program align closely with the mission of the CCAF and we're incredibly pleased that the funding will go towards empowering the next generation of young women."
On the overall success of the funding outcomes, Girls from Oz Chair Nicole Muir AM said "It's exciting to have so many different organisations and funding bodies engaging with our work. Their confidence in us will enable us to bring some important projects to life that will significantly enhance the success of our work."