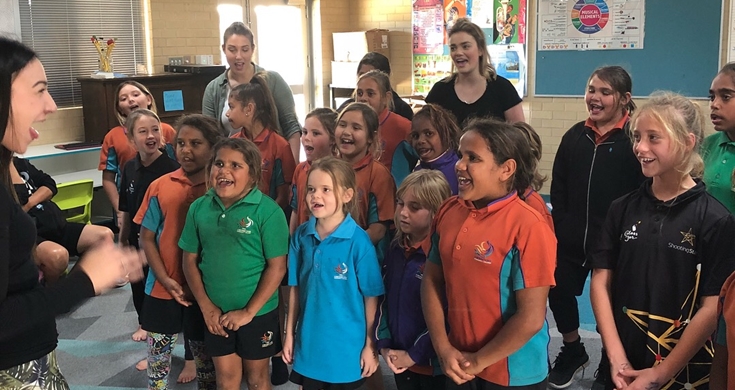 I am buzzing with gratitude after spending a week in Carnarvon on my first g-oz trip. From the moment our plane touched down I was greeted with open arms by the community, staff, and students.
I was accompanied by experienced g-oz Instructor, Laura, as well as dancer, Alex, and fellow Sydney-sider, Maddie. Many of the girls were thrilled to see the g-oz team again, while others took some time to engage with the singing, drama, and dance activities. It was so encouraging to have all students participating fully in the program by the end of the week. I am proud of all the girls who took some risks and let themselves be 'brave'.
The senior girls committed to perfecting a beautiful lyrical dance to 'This Is Me' from The Greatest Showman, embracing the message of resilience and strength in both the lyrics and movement. The junior girls challenged themselves and improved their movement skills with a hip-hop routine to 'Something Big'. A highlight of the trip was having the Year 5 and 6 classes perform the routine back to us on the final day without Alex leading the movement. A huge cheer of excitement erupted from the group upon the item's successful finish!
The week's focus was to prepare for the weekend's 'Tropicool' performance. After learning the pieces separately, the junior and senior campuses came together for Friday's Junior Assembly to sing 'At The Beginning' from Anastasia, let loose in a fun REDed dance to 'Waka Waka' and belt out 'Brave' by Sara Bareilles. Witnessing the senior girls take leadership and support the younger girls, I was reminded that we are stronger together, and also of the joy that singing in a group can bring to both performers and an audience.
I can't wait to head back to Carnarvon in October and build on the knowledge, skills and confidence gained this week.
By Olivia Linas, g-oz Instructor, Carnarvon August 2018