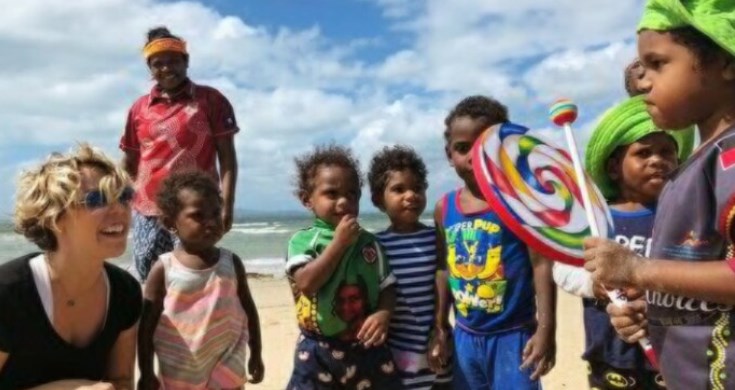 It's Friday evening and I have just had the pleasure of completing my fourth trip to Lockhart River with Girls from Oz. As the dance specialist of the team, it's my job to get the girls up and dancing with a mix of my own material and the dances generously donated by the REDed program. On this trip I was accompanied by the terrific and talented Vicki King – the Artistic Director of the Australian Girls Choir who was in charge of the singing component of our trip.
Lockhart River is located in far north Cape York. From my home town of Sydney, it's a flight to Cairns followed by another flight to Lockhart River. Our work is primarily based at Lockhart State School where we work with students in Pre-Prep to Year 6. We also make a daily visit to the mums and bubs at Kuunchi Kakana which is normally held at the Puuya Centre in town, although this time we were invited to accompany the mums and bubs on a trip to the local beach where we sang, danced and shared stories on the sand.
I found it very rewarding to share dance with the students at Lockhart State School. In warm-ups before each dance session the students were eager to improve their strength and flexibility. The highlight for me was teaching the Grade 3-6 girls some hip hop. This is the style I specialise in teaching at my own dance studio in Sydney, 100% Dance. The girls really embraced this style, so we took our dancing out of the classroom and into the school grounds where we made our own mini music video! All students also performed at the Friday parade and I was so proud of their confidence and skill development.
During our time in Lockhart River, we also made time to embrace the natural beauty and isolation of the region. We visited the local art centre where we met some inspirational indigenous artists and took a drive out to the stunning Chilli Beach.
I adore visiting Lockhart River. It is so rewarding to see how much the students grow each year as individuals, and I feel very fortunate to be able to learn more about our country's Aboriginal culture which the beautiful community of Lockhart are so proud of. I can't wait to return next year!
By Jess Innes, g-oz Instructor, Lockhart River August 2018