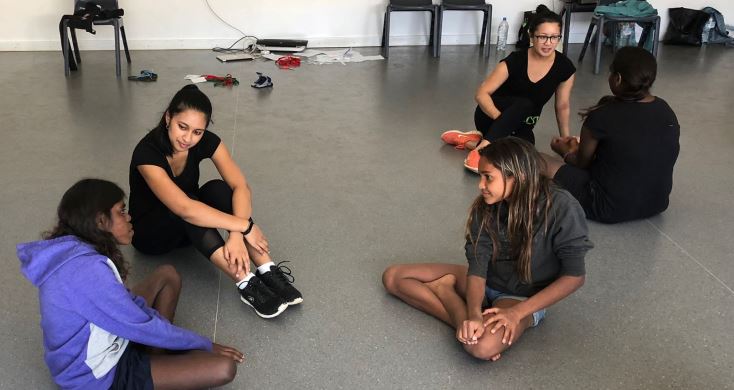 Arriving to a 25 degree day in Halls Creek was a welcome change after leaving Melbourne's cold temperatures. I have heard such amazing stories from Instructors on previous Girls from Oz trips, and so I was incredibly excited and humbled to be embarking on my first trip.
As soon as we walked into Halls Creek District High School, we had so many girls bound towards us to say hello. It was evident Girls from Oz was a highlight for them.
Jumping straight into our 'girls only' sessions with the Year 5/6s and secondary school girls, it became abundantly clear how much these girls love performing arts and Girls from Oz sessions. Over the course of the week we worked with the senior girls, as well as boys and girls from Kindy to Year 4. Our focus in all sessions was to build confidence, communication and teamwork skills while promoting school attendance through performing arts.
All of the girls gave everything a go, even if it pushed the boundaries of their comfort zone. After bonding with the girls, many shared their future aspirations with us; to become lawyers, doctors, basketball players, vets, police women.
Through performing arts I have helped to empower, educate and broaden the minds of these young women, and in turn they have broadened my thinking. Their stories, laughter and persistence have provided me with a lifetime of memories, as well as an intense desire to continue the amazing work of Girls from Oz. I can't wait to hear the stories of the girls' growth following the next trip to Halls Creek in June.
By Kimielle D'Mello, g-oz Instructor, Halls Creek May 2018